Resources
Resources and supports available to help you or someone you know, both on and off campus
Vision
At the Faculty of Nursing, we care for each other by building psychological health and safety among ourselves and among people we serve.
Mission
To create a culture within the Faculty of Nursing that honours not just our academic and professional excellence, but also our personal wellness.
Values
We are anchored and guided by the values outlined in the Faculty of Nursing Strategic Plan "Leading the Pursuit of Nursing Excellence" and the guiding principles of the University of Calgary Campus Mental Health Strategy: Creating a Community of Caring to achieve and sustain mental health and wellness at the Faculty of Nursing.
What is psychological health and safety?
Psychological health and safety is embedded in the way people interact with one another on a daily basis and is part of the way working conditions and management practices are structured and the way decisions are made and communicated. 

(CSA group, 2013)
A psychologically healthy and safe workplace is one that promotes and supports employee mental health and wellbeing by assessing and addressing how policies, processes, practices, and interactions affect employees, the workplace environment, and the campus culture.
The university is committed to ensuring psychological health and safety. The National Standard is a set of guidelines for organizations to support a psychologically healthy workplace.
Dr. Curt Johnston talks about psychological safety - specifically how it relates to frontline health-care teams and how it can affect patient safety. Listen to this AHS Podcast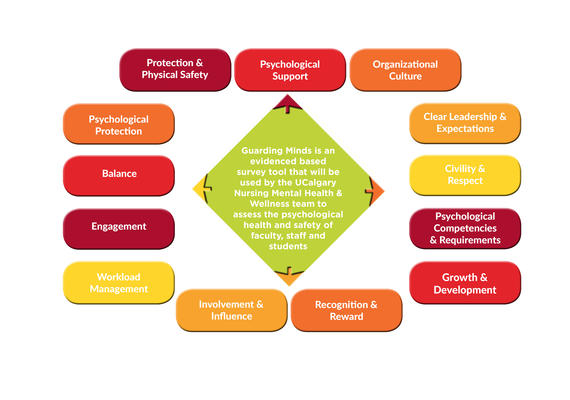 Guarding Minds at Work
Guarding Minds is an evidenced based survey tool that will be used by the UCalgary Nursing Mental Health & Wellness team to assess the psychological health and safety of faculty, staff and students
Campus Mental Health Educational Resources
Engage students, faculty and staff with information about mental health on campus in a variety of ways.
Find things like a Course Outline Statement, Student Mental Health Resource Slides and Workplace Mental Health Minute materials and more here.
Healthy Campus Alberta
Healthy Campus Alberta is a community of practice made up of committed individuals and organizations who have a shared mission to create an inclusive, collaborative, and community-integrated approach to mental health and wellness on campuses. 
Compassionate 'zero-suicide' prevention on campuses needed
Even with a concerted response to improve mental health at universities, mental health crises still occur. The issue of suicide has been in the news lately, and students are looking to universities to respond.