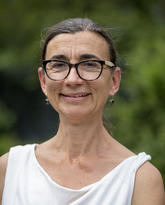 Carla Ginn
Assistant Professor
Faculty of Nursing
PhD
University of Calgary, 2017
MSN
University of Lethbridge, 2010
BN (Distinction)
University of Lethbridge, 2006
Diploma of Nursing
Medicine Hat College, 1983
Contact information
Location
Professional Faculties:
PF2239
Courses
NURS 285 - The Discipline & Profession of Nursing I - Fall 2019

NURS 599 - Integrating Nursing Roles and Practices VI: Transition to Nursing Practice - Winter 2020

NURS 633 - Leadership in Advanced Nursing Practice and Practicum I - Winter 2020
Research
Research Interests
FNMI health and wellbeing
Intergenerational resiliency
Early intervention
Participatory action research
Mixed methods
Constructivist grounded theory
Maternal-child health
Biography
Carla Ginn is a research-intensive assistant professor with a focus on FNMI Intergenerational Heath and Wellbeing and Maternal-child Health. Her CIHR-funded master's work involved Participatory Action Research with a group of urban First Nations grandmothers to explore meanings of health and health promotion in families and communities. Her fully funded doctoral work was at Calgary Urban Project Society (CUPS) One World Child Development Centre. with families living at less than half the low-income cut-off, and managing addiction, mental illness, and/or social isolation.
Carla is currently engaged in community-based research at CUPS Health Education Housing, and has worked extensively with women, children, and families living with low income throughout the life cycle. Carla is a member of the O'Brien Institute for Public Health Group for Research with Indigenous Peoples (GRIP), and was selected for the CIHR Early Career Investigator (ECI) observer program for the Project Grant: Fall 2016 competition Indigenous Health Cluster.