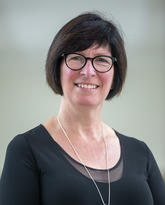 Dawn Kingston
Professor
Faculty of Nursing
PhD
McMaster University, 2009
MS
McMaster University, 2004
Diploma, RN
Conestoga College, 1991
BSc (Honours)
University of Guelph, 1986
Contact information
Location
Professional Faculties Building :
PF3220
Research
Research Interests
Perinatal mental health
Child development and mental health
Application of e-technology to mental healthcare
Health services and policy research
Student Supervision
Accepting students with an interest in perinatal mental health in the following areas:
E-mental health (developing and testing models of mental healthcare using technology, including cognitive behaviour therapy and interpersonal therapy)
Perinatal mental health screening
Adverse childhood experiences
The impact of prenatal and postnatal influences on child neurodevelopment
Child resilience, including its biological, social, genetic and epigenetic influences
Dawn Kingston currently has funding for an Eyes High Doctoral Scholarship beginning in spring or fall of 2017. Only new students are eligible (current Master's students completing their degree and entering a PhD program as a new student qualify).
Contact her at dawn.kingston@ucalgary.ca for more information.
Biography
Dr. Dawn Kingston is an associate professor in the Faculty of Nursing at the University of Calgary.
She and her team are passionate about helping women and their families have the best start to life by improving maternal mental health, especially during pregnancy.
She is the Lois Hole Hospital for Women Cross-Provincial Chair in Perinatal Mental Health, funded by The Royal Alexandra Foundation in Edmonton and the Faculty of Nursing at the University of Calgary and holds a national New Investigator Award from Canadian Institutes of Health Research.
Her research focuses on improving perinatal mental health as one of the strongest, modifiable influences of child mental health and development. She and her team develop and evaluate approaches for screening and treating women who struggle with depression and anxiety during pregnancy. They are leading the field in using e-technology for screening and therapy in pregnant women so that women can get help whenever they need it, wherever they are. Their nationally-funded trials are among the first to explore the clinical- and cost-effectiveness of e-screening and e-therapy on the mental health of pregnant women, and how this early intervention impacts the mental health, physical health, and development of their children. With over 1000 participants to date in these studies, pregnant women are receiving acceptable, appropriate and timely mental healthcare that they otherwise may not have accessed. As a part of their work, Dr. Kingston's team also studies the personal and health system barriers that women and their partners experience in obtaining mental healthcare. This research has influenced Ontario's screening and surveillance system and Alberta Health Services' direction in standardizing mental health screening in Alberta. Dr. Kingston's team is also conducting studies to understand the mental health state and needs of women and men undergoing infertility treatment – a highly under-serviced group. The team enjoys collaborating with other experts worldwide as it seeks to improve women's mental health and children's outcomes globally. Dr. Kingston also values her strong collaborations with Alberta's only women's hospital, the Lois Hole Hospital for Women, as she and her team implement and evaluate "scaled up" e-screening and e-therapy interventions in acute care areas, including the high risk antenatal unit, the postpartum units, and the regional infertility clinic. These acute care settings are Canada's first to employ routine mental health screening and treatment.
Dr. Kingston's work also aims to understand the consequences of early adverse childhood experiences, particularly poor perinatal mental health, on child mental health and development. She is lead of the largest, most comprehensive study to date to understand resiliency in children. She and her team are seeking to answer the question of why some children are quite affected by early adversity (such as prenatal depression and anxiety, parental separation, bullying) and others are less so. With $2M recently awarded from Alberta Innovates-Health Solutions, Dr. Kingston's team of 18 investigators across 5 laboratories and 3 universities will be the first to identify the genetic, epigenetic, and biological causes of child resiliency. This study will help us to develop interventions and support families to enhance their child's resiliency so that their child can reach his/her full potential - physically, emotionally, and developmentally.
Dr. Kingston is also an investigator and executive member of the All Our Babies Cohort, a pregnancy cohort of over 3300 children and mothers. She and her team study the effect of early life influences – positive and negative - on long-term child mental and physical health and development in order to understand the best way of optimizing children's future success.
Dr. Kingston is also a Co-Lead on Canada's first national guideline in perinatal mental healthcare. In collaboration with the Society of Obstetricians and Gynecologists of Canada, the Canadian Psychiatric Association, and the Royal Australian and New Zealand College of Obstetricians, this guideline will set Canada's first standards of care for mental health screening and care of pregnant and postpartum women.