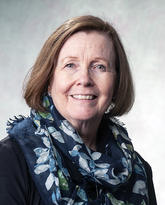 Georgina Bagstad
Instructor
Faculty of Nursing
MN
University of Calgary, 2019
BN
University of Calgary, 1987
Diploma in Nursing
Mount Royal College, 1974
Contact information
Location
Professional Faculties :
PF3258
Courses
NURS 599 - Integrating Nursing Roles and Practices VI: Transition to Nursing Practice - Winter 2020

NURS 589 - Integrating Nurs Role & Prac V: Learning, Praxis & Scholarship in the Practicum Setting - Spring 2020
Biography
Georgina Bagstad has taught nursing students in the classroom and clinical setting for 28 years with 23 of those years at the University of Calgary. As a sim fellow, she is interested integrating selected first year undergraduate nursing students and nursing alumni mentors in nursing education through a program promoting students and alumni as actors during simulation scenarios.
The purpose of the project is two-fold: 1) Develop first year nursing students and nursing alumni as actors in simulation scenarios to enrich nursing education by giving higher level nursing students the opportunity to practice communication and assessment skills in preparation for their experience with patients in the clinical environment. 2) Assess the advantages of teaching improv skills and using nursing alumni as mentors for the selected first-year nursing students to enhance their critical thinking and reasoning skills and promote quick thinking when they advance through the nursing program.