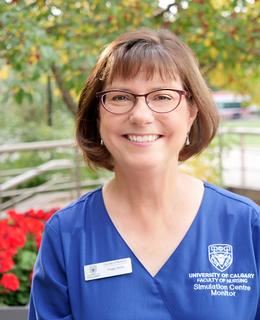 Peggy Gorrie
Positions
CSLC Monitor
Faculty of Nursing, Clinical Simulation Learning Centre
Background
Biography
Peggy Gorrie is a Clinical Simulation Learning Centre (CSLC) Monitor who supports student learning outcomes by: refining lab and simulation design requirements in collaboration with faculty: preparing, setting-up and dismantling labs, classrooms and simulation suites; performing maintenance and other duties to ensure the safe and effective operation of the CSLC.
Peggy has worked as a cardiac nurse at the Rockyview Hospital and as an office nurse in a family medicine practice in southwest Calgary. In addition, she has piloted various patient education initiatives. Working in the CSLC is a way to channel her interest in the education of young people and help give graduating nurses the skills and confidence they need as they step out into their careers.
Peggy has various interests, from gardening, hiking, cycling, reading and writing, to encouraging her family in their various pursuits. She is also an avid hockey and equestrian fan. Peggy is a graduate of the University of Calgary, BN program.