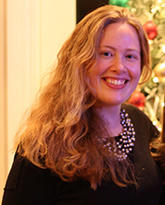 Kharah Ross
Postdoctoral Fellow
Faculty of Nursing
PhD
Northwestern University
MA
University of British Columbia
BSc (Hon, Psychology)
University of Calgary
BSc (Biological Sciences)
University of Calgary
Contact information
Location
Professional Faculties Building:
PF2282
Research
Research Interests
Health psychology
Behavioral science
Psychoneuroimmunology
Biography
Kharah Ross is an interdisciplinary researcher, specializing in the areas of health psychology, behavioral science and psychoneuroimmunology. Her research investigates the role of social connections in predicting and understanding cardio-metabolic and immune health, with a focus on maternal-child health and pregnancy outcomes.
Dr. Ross' research is inherently interdisciplinary, and she has collaborated and published with experts from a diversity of backgrounds, including nursing, obstetrics, epidemiology, biostatistics, biochemistry, genetics, sociology, anthropology, and clinical, social and developmental psychology. She is thrilled to be back in beautiful Alberta, and is busy getting reacquainted with the food and art scene in Calgary.
Publications
See her full electronic CV at: