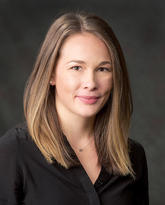 Krista Wollny
Instructor
Faculty of Nursing
MN
University of Toronto, 2015
BSN
Queens University, 2011
Contact information
Location
Professional Faculties :
PF3239
Research and teaching
Research Interests
Nursing education
Simulation
Paediatric critical care
Patient safety and quality care
Epidemiology
Biography
Krista came to the simulation team with a background in paediatric and neonatal critical care nursing. As a simulation fellow at UCalgary Nursing, she worked on integrating pediatric VSim (virtual simulation) cases into the curriculum. The hybrid approach of combining VSim with hands-on learning helps to reinforce the learning objectives of the simulation experience through repetition in a safe and supportive environment.
She has also adapted the paediatric lab and simulation guides to have more hands-on learning for students. Krista enjoys the simulation lab's role of providing scaffolding for students to develop in the Zone of Proximal Development. She is currently working on her PhD in Epidemiology at the University of Calgary's Community Health Sciences, studying quality care metrics in the paediatric ICU.