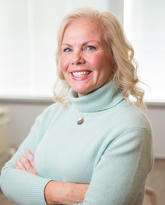 Linda Duffett-Leger
Associate Professor
Faculty of Nursing
PhD
University of New Brunswick, 2011
MN
University of New Brunswick, 2006
BN (First Division)
University of New Brunswick, 1996
BA (Honours)
University of New Brunswick, 1992
Contact information
Location
Professional Faculties :
PF3248
Research
Research Interests
Chronic illness
Back pain
Public health
Wearable devices
Interdisciplinary research
Biography
Dr. Duffett-Leger is an assistant professor at the University of Calgary in the Faculty of Nursing. Her program of research recognizes a fundamental paradigm shift, from treatment of disease to wellness promotion, by focusing on reducing the economic and human costs associated with chronic illness through the development of innovative health promotion and disease prevention strategies and technologies.
Dr. Duffett-Leger is currently leading an interdisciplinary study investigating how wearable devices can empower nurses to better monitor and maintain their back health. Linda is currently a member of the Biomedical Engineering (BME) Steering Committee and the Academic Committee on Entrepreneurship and Innovation (ACEI).
She is also a Teaching Scholar at the Taylor Institute for Teaching and Learning for her work in implementing a team-based learning approach using innovative e-learning technology. Dr. Duffett-Leger was identified as a Rising Star in Chatelaine magazine, acknowledged as one of the Top 5 Women Revolutionizing Healthcare in Canada.