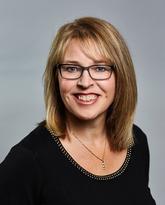 Linda Watson
Adjunct Assistant Professor
Adjuncts
Sessional Instructor
Sessionals
PhD - Oncology Nursing
University of Calgary, 2014
MN - Oncology Nursing
University of Calgary, 2008
BSN
University of Saskatchewan, 1990
Research and teaching
Research areas
Oncology nursing practice and education
Implementation science
Health services research
Economic evaluation
Person-centered care
Biography
Dr. Linda Watson is the scientific director for applied research and patient experience with the Alberta Health Services cancer program and an adjunct assistant professor with the Faculty of Nursing at the University of Calgary.
Applied Research – Patient Experience aims to improve the quality of life and experience of cancer patients in Alberta through the collection and use of patient reported measures to tailor improvements in care and system design, provide targeted and personalized symptom management and improved integration between primary care and the cancer program across the cancer trajectory.
She is the primary investigator on a nationally funded four year applied research study "Improving quality of life for cancer patients in Alberta through comprehensive application of Patient Reported Outcomes (PROs)" and co-investigator on the "Development, Implementation and Evaluation of an Innovative Integrated Supportive Care Pathway by Primary Care across Alberta" grant, funded by AHS, Alberta Innovates and CIHR.
She has lead the development, implementation and evaluation of several provincial programs with CancerControl Alberta including a Cancer Patient Navigation program, a "Post-Treatment Cancer Transitions in care Model" and a free consult recording mobile phone app.