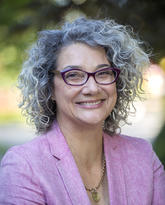 Lorraine Venturato
Associate Professor
Faculty of Nursing
PhD
Queensland University of Technology, 2003
BN (Distinction)
Queensland University of Technology, 1994
BBA
Queensland Institute of Technology, 1986
Contact information
Location
Professional Faculties :
PF3242
Research
Research Interests
Gerontological workforce development
Culture change / Practice development
Models of care for frail older people
Care of people with dementia
Qualitative research approaches (hermeneutics, action research, institutional ethnography)
Biography
Dr. Lorraine Venturato joined the Faculty of Nursing in January 2014 and holds a Chair in Gerontology. She has previously held a joint position as a senior research fellow in Australia and is an advocate for partnership approaches to research, education and practice.

With more than 20 years experience as a clinician, educator and researcher in long-term aged care, Dr. Venturato's passion for working with older people has led her to explore creative and innovative approaches to meeting the challenges that face older people and those that care for them. Her current research focuses on the interplay between nursing practice, education and research in gerontology, with particular interest in the nexus between service delivery and workforce development.

Dr. Venturato's research program includes the development and testing of models of care, professional practice models and staffing frameworks for the aged care industry. She is also engaged in translational research and practice development in aged care. Her clinical research focuses on quality of care and models of care for people living with dementia.