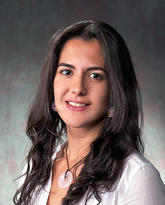 Margarita Gil
Instructor
Faculty of Nursing
BN
University of Calgary, 2010
Contact information
Location
Professional Faculties :
PF3229
Courses
NURS 489 - Integrating Nurs Roles & Pract III: Learning, Praxis & Scholarship in the Practicum Setting - Fall 2019

NURS 499 - Integrating Nursing Roles and Practices IV - Winter 2020
Research
Research Interests
Older adult population
Palliative care
Immigrant populations
Biography
Margarita Gil is a Registered Nurse with work experience in the areas of general medicine, geriatrics, and medical psychiatry. She teaches clinical practice to students in the acute care practice setting, and she works as a research assistant for the Chair in Gerontology of the University of Calgary. Her teaching and research interests include the older adult population, palliative care, and immigrant populations.