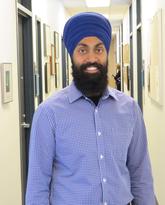 Pavneet Singh
Postdoctoral Fellow
Faculty of Nursing
PhD
University of Calgary, 2016
B.Tech.
Jaypee Institute of Information Technology University, 2009
Contact information
Location
Professional Faculties Building:
PF2207
Research
Research Interests
Culturally sensitive care
South Asian cardiovascular health
Medication adherence
Behaviour change interventions
Motivational interviewing
Grounded theory
Biography
Pavneet Singh earned his PhD in the Department of Biochemistry and Molecular Biology at the Cumming School of Medicine at the University of Calgary in 2014. Since then, he has been working on patient-oriented research as a post-doctoral fellow and has focused on the health of South Asian patients in Calgary. He is currently doing a post-doc with Dr. Kathryn King-Shier, focusing on improving medication madherence in South Asian patients using motivational interveiwing based intervention. In his free time, he likes to hike, scramble, backpack and bike. He is currently a Board of Director for Bike Calgary, a Calgary-based cycling advocacy group.