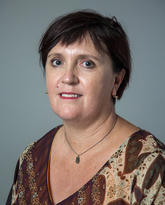 Suzanne Goopy
Adjunct Associate Professor
Adjuncts
PhD
Griffith University, 2001
BA (Honours)
Griffith University, 1994
BA
Griffith University, 1989
Research
Research Interests
Health, built environment, and culture
Visually mapping communities
Artist
Biography
Dr Suzanne Goopy hails from Brisbane, Australia and joined the Faculty of Nursing in July 2014. With over 20 years experience in social science and health related research Dr Goopy is a social anthropologist, visual ethnographer, and artist who brings a fresh approach to understanding and engaging community through her emphasis on interdisciplinary and collaborative approaches to research. Of particular interest to her is the role that the visual can play in research as both a data collection tool and a research outcome.
Dr Goopy's research program is focused around the theme of journey with a special interest in visually mapping communities. Her most recent works have focused on life history and exploring the relationships between well-being, health, youth, ageing, culture, and identity.
Suzanne's work (and that of her collaborators) has been exhibited in galleries, included in cultural festivals and touring exhibitions, as well as being published and recognized in international journals, books, and magazines.