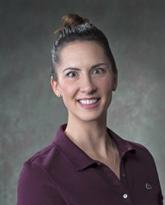 Sydney Farkas
Adjunct Clinical Associate
Faculty of Nursing
MN - Specialty: Nursing Teaching Focus
Athabasca University, 2015
BN
University of Calgary, 2007
Research and teaching
Research Interests
Oncology best practice
Adult education
Online learning, flipped classroom and e-simulation
Biography
Sydney is the Provincial Educator/Coordinator for the Oncology Practice Readiness Education Program (O-PREP) in Alberta Health Services, in the Health Professions Strategy and Practice portfolio. She works to advance development, planning, implementation, coordination, and evaluation of oncology orientation and education in CancerControl Alberta.
She is a certified oncology nurse with the Canadian Nursing Association and has more than 10 years of oncology experience. Her diverse experience includes former roles as: clinical nurse educator at Tom Baker Cancer Centre in Systemic Therapy and Blood and Marrow Transplant, frontline systemic therapy nurse, solid tumour and hematology clinics and the Tom Baker Cancer Centre Screening for Distress Coordinator.
Sydney is active at local, provincial, and national levels of oncology and has been an executive for ONIGA—South, a Chapter of the Canadian Association of Nurses in Oncology (CANO) since 2008.