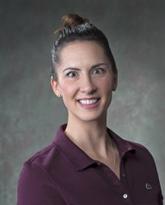 Sydney Farkas
Adjunct Clinical Associate
Adjuncts
MN - Specialty: Nursing Teaching Focus
Athabasca University, 2015
BN
University of Calgary, 2007
Preferred method of communication
Research and teaching
Research Interests
Oncology best practice
Innovations in adult education
Virtual Learning
Biography
Sydney is the Provincial Educator/Coordinator for the Oncology Practice Readiness Education Program (O-PREP) in the Associate Chief Nursing Office, in Alberta Health Services. She works to develop, direct, and evaluate oncology education to advance and standardized orientation in CancerControl Alberta.

She is a certified oncology nurse with the Canadian Nursing Association and has more than 12 years of oncology experience in diverse roles.

Sydney is active at local, provincial, and national levels of oncology. She is a member of the CANO/ACIO Professional Practice Committee and a member of ONIGA—South, a Chapter of the Canadian Association of Nurses in Oncology (CANO).