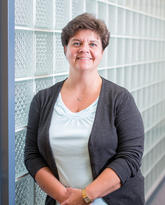 Tracey Clancy
Assistant Dean, Faculty Development
Faculty of Nursing
Instructor
Faculty of Nursing
MN
University of Calgary, 2008
BN
University of Calgary, 1996
Diploma in Nursing
Foothills School of Nursing, 1988
Contact information
Location
Professional Faculties :
PF2224
Research
Research Interests
Teaching and Learning within Nursing Education
Co-Teaching
Peer Mentoring / Leadership
Biography
Tracey Clancy is a tenured, senior instructor within the Faculty of Nursing, University of Calgary. She is currently the Assistant Dean of Faculty Development. Tracey has been teaching students in clinical practice since 1996, and joined the faculty as a full time instructor in 2008. She is an inaugural member of the Teaching Academy at UCalgary's Taylor Institute for Teaching and Learning. Her research interests include the scholarship of teaching and learning in nursing and higher education, educational leadership, faculty development, peer mentorship, co-teaching, teaching presence, authentic learning and self-authorship. Tracey's practice experience is in oncology, hematology, bone marrow and stem cell transplant, in addition to an advanced nursing practice role within the Advanced Vascular Access Service at the Foothills Medical Center. She serves with the Alberta Children's Hospital as a parent volunteer.Tracey is currently pursuing her PhD in Educational Leadership from the University of Victoria with an interest in exploring what characterizes the self-development of nurse educators, specifically distinguishing the personal and the contextual factors that influence nurse educator sustainable development. She earned her Master of Nursing from the University of Calgary in 2008 with a focus on transitioning into clinical teaching. She received her Bachelor of Nursing in 1996 from the University of Calgary, having completed her nursing diploma from the Foothills School of Nursing in Calgary in 1988.