Bachelor of Nursing - Transfer
For students transferring from another post-secondary program 
Students transferring from another post-secondary program may start the Bachelor of Nursing Program in either September or January and will complete a 28-month program with year-round courses with two summer breaks.
28-month program
September and January entry
Year-round program with one spring/summer session (May to August) and one summer session (July to August) free from coursework
NOTE: Students will not be permitted to switch routes mid-program.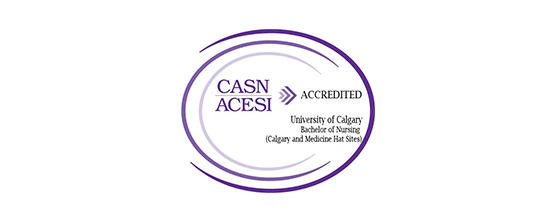 Important Notes on Admission
Admission Requirements
High school courses
Mathematics 30-1 or Mathematics 30-2
Biology 30
Chemistry 30
Information on out-of-province high school course equivalents can be found here. 
Post-secondary courses
In addition to high school courses, the following are required from an accredited post-secondary institution recognized by the University of Calgary:
A minimum of 30 transferable units which must include the following courses, or equivalent, at a junior level or higher:  

English or a comparable English literature course (3 units)
Arts course (see here for a list of acceptable subject areas) (3 units)
Statistics course (3 units)
Human Anatomy & Physiology course(s)* (6 units), with minimum grade of C-
          *Approved by the Faculty of Nursing   
GPA Requirements
Admission is determined based on a competitive GPA. 
Effective Fall Session 2017, the Transfer Admission GPA will be calculated based on the pre-requisites outlined under "Admission Requirements" (English, Arts, Statistics and Anatomy/Physiology), regardless of when they were completed, plus an additional 15 units taken from the most recent transferable coursework for a total of 30 units. Calculated as of the end of Winter Session (April) for September entry and the end of Summer Session (August) for January entry. 
The University of Calgary uses a 4-point GPA scale.
Applicants placed on hold will be notified as early as possible and up to the end of August/December, as space becomes available, if the Faculty is able to offer a position.
Transferring from a related program?
Prospective students who are currently in a nursing program at another institution or who have graduated from a LPN/RNA, RPN, PCA or EMS program are directed to the Frequently Asked Questions (FAQ) page for detailed information regarding transferability.  Individuals who wish to apply for admission, should contact a Student Advisor in the Faculty of Nursing prior to making application to the University of Calgary.
Indigenous Applicants and Diverse Qualifications
See the Indigenous Admission Process or the Diverse Qualifications Process for further information.
OFFICIAL TRANSCRIPTS AND DOCUMENTS SHOULD BE SENT TO:
University of Calgary 
Enrolment Services 
Room 117, MacKimmie Library Block 
2500 University Drive NW 
Calgary, Alberta T2N1N4