Giving Day
Be part of a proud community that rallies each year to transform and elevate student experiences
Patient care is complex. Giving is easy.
UCalgary Giving Day is Thursday, April 23 in 2020. More than 1500 alumni, students, faculty, staff and supporters contributed to 2019's Giving Day and raised just over $1.2 million in support of incredible student experiences.
Help us raise funds for UCalgary Nursing causes you care about most! This year, consider giving to the following initiatives:
Faculty of Nursing 50th Anniversary Alumni Scholarship Endowment Fund

Faculty of Nursing Impact Fund
As we approach April 23, we encourage you to make a donation. Through your support on Giving Day, you are sending students a message that you believe in their vision and want to contribute to their success.
The Power of Collective Philanthropy
On April 25, 2019 UCalgary hosted its third Giving Day — a 24-hour fundraising marathon of sorts, where gifts were matched up to $2,500.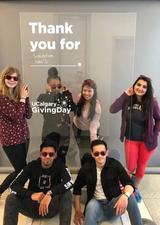 What are you grateful for?
For UCalgary's 2019 "Thank-a-thon," students shared their moments of gratitude.