Anyone who has seen the 2000 movie Meet the Parents will remember the character of Greg Focker (played by Ben Stiller), a nurse ridiculed by his future father-in-law for his career choice. Although he took and "aced his MCATs" in order to keep his options open, Focker chooses nursing over medicine, proclaiming it was a better fit that gave him "the freedom to work in several different areas of medicine."
Although Focker is fictional, nursing alum Mackenzie Margetts BN'17 says that many of the stereotypes expressed in the film really exist, including the false idea that nursing is an inferior occupation.
"Some people choose nursing because they think it is an 'easy way' — a stepping stone — to medicine, but it's no stone, it's a flipping boulder. Nursing requires critical thinking, hard work — lots of it — and stamina," he says. "You can't be successful as a nursing student unless you are 100 per cent committed."
Across the country, the number of male nurses has doubled in the past decade, according to the Canadian Nurses Association (CNA), and now sits at roughly six per cent.
It is important for everyone to understand that nursing is a challenging, scientific and diverse career for both men and women. This event gives the guys a chance to ask pointed questions of our male students and our alumni.
Brenda Toth
Manager, Undergraduate Programs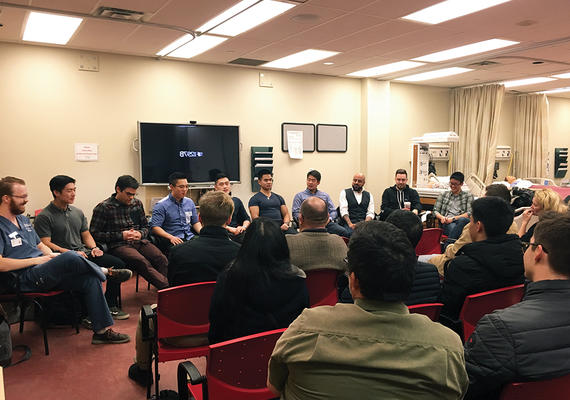 Men in Nursing Info Session
Every fall, the Faculty of Nursing hosts an annual recruitment event for prospective male students where a panel of students and alumni talk about the diversity of a registered nurse career and being a guy in the profession. 
Connect with current students and our alumni and hear their insights into why to pursue a UCalgary BN degree, leadership for men in nursing and importance of diversifying the workforce
November 20, 2019 
6:30 p.m. to 8:30 p.m.
PF 1297
Join the Nursing Guys Club!
NGC is an excellent source of networking and social support. You will have the opportunity to meet nurses from a huge variety of specialties, as well as other members of the healthcare industry. NGC will also give you the opportunity to collaborate with nursing students from all years of BN program, providing you with the mentorship necessary to succeed in your program.