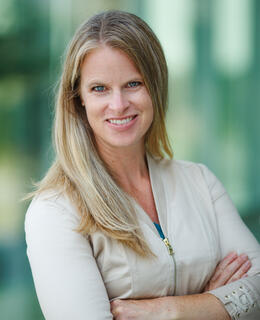 Dr. Merilee (Meredith) Brockway, PhD RN IBCLC
Positions
Assistant Professor
Faculty of Nursing, Faculty
Child Health & Wellness Researcher
Alberta Children's Hospital Research Institute
Background
Credentials
International Board Certified Lactation Consultant (IBCLC), International Board of Lactation Consultant Examiners , 2011
Registered Nurse (RN), College of Registered Nurses of Alberta, 2004
Educational Background
PhD Nursing, University of Calgary, 2019
BN Nursing, University of Calgary, 2004
BSc Biotechnology, University of Lethbridge, 2000
Biography
I am a PhD prepared nurse and International Board-Certified Lactation Consultant (IBCLC) with expertise in maternal-child health, infant feeding, and patient engagement. I completed my PhD in nursing at the University of Calgary, examining maternal breastfeeding self-efficacy and infant feeding outcomes in moderate and late preterm infants. I also completed a three year post-doctoral fellowship at the University of Manitoba in Dr. Meghan Azad's THRIVE Discovery Lab, exploring clinical applications of donor human milk for preterm infants. As an Assistant Professor at the University of Calgary, my program of research examines the use of human milk as a clinical intervention to mitigate early life perturbations to the infant microbiome. When I am not researching lactation and human milk, I love to hike and cross-country ski with my family.
Research
Participation in university strategic initiatives
Projects
Matching Milk on Maternal Secretor Status
My program of research aims to transform health care provision to enhance child health outcomes for vulnerable populations, specifically infants who experience adverse early life exposures. I am a nurse scientist specializing in preterm birth, infant nutrition, early life exposures, and family centred care. I have expertise in mixed methods designs, clinical trials, community engagement, and patient-oriented research. My developing program of research examines the role of infant feeding, specifically provision of breastmilk and donor human milk, in informing health outcomes for infants who experience vulnerability through adverse early life exposures. I routinely engage clinicians, patients/parents, and policy makers in research to ensure that outcomes are meaningful and understandable to the knowledge user. In my current role as a post-doctoral fellow in the Azad lab, I am bridging my clinical training with basic science to develop a precision nutritional intervention that is tailored towards maternal-infant microbiome and biological determinants of health in the preterm population.  I am building a program of research that bridges existing foundational microbiome evidence with clinical expertise to conduct translational research that will address and remediate the impact of adverse early life exposures on the developing infant microbiome. My program of research will incorporate an intersectional lens to enhance diversity, equity, and inclusion of marginalized populations into this important field of research. I will also use a socio-ecological understanding of how the determinants of health interact with the infant (host) and their microbiome. My program of research is unique because I can leverage my nursing expertise with my microbiome training, patient-oriented research, and clinical trial experience, to develop pragmatic clinical interventions that will enhance child health outcomes.