Guarding Minds at Work
Guarding Minds is an evidenced based survey tool that will be used by the UCalgary Nursing Mental Health & Wellness team to assess the psychological health and safety of faculty, staff and students.
An evidence-based tool that guides our work
Guarding Minds at Work resources allow employers to effectively assess and address the 13 psychosocial factors known to have a powerful impact on organizational health, the health of individual employees, and the financial bottom line.
Guarding Minds at Work was developed by researchers from the Centre for Applied Research in Mental Health and Addiction (CARMHA) within the Faculty of Health Sciences at Simon Fraser University on the basis of extensive research, including data analysis of a national sample and reviews of national and international best practices, as well as existing and emerging Canadian case law and legislation.
*Psychological health and safety is embedded in the way people interact with one another on a daily basis and is part of the way working conditions and management practices are structured and the way decisions are made and communicated (CSA group, 2013)
Psychological health comprises  
"Our ability to think, feel and behave in a manner that enables us to perform effectively in our work [and school] environments, our personal lives, and in society at large."
Psychological safety  
"It deals with the risk of injury to psychological well-being that an [individual] might experience."
(Definitions referenced from Guarding Minds at Work)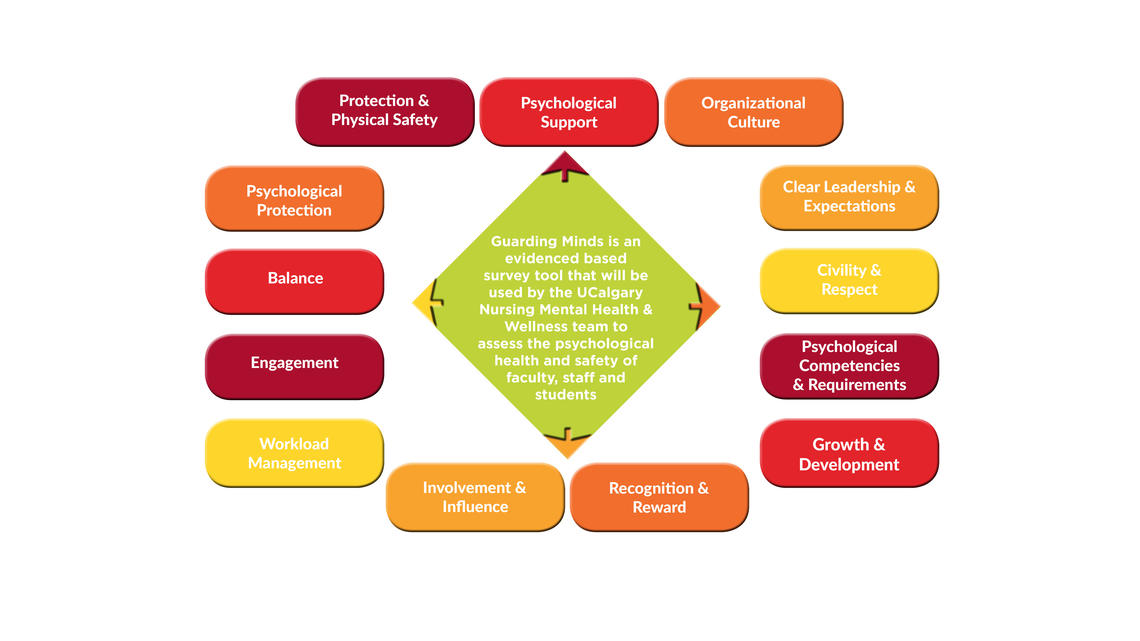 Psychological Support
[Refers to what degree individuals] believe their organization values their contributions, is committed to ensuring their psychological well-being and provides meaningful supports if this well-being is compromised.
Organizational Culture
The degree to which [an] environment is characterized by trust, honesty, and fairness.
Clear Leadership & Expectations
[An] environment where there is effective leadership and support that helps [individuals] know what they need to do, how their work contributes to the organization, and whether there are impending changes.
Civility & Respect
Is present in [an] environment where [individuals] are respectful and considerate in their interactions with one another, as well as with customers, clients and the public.
Psychological Competencies & Requirements
[represents to what degree] there is a good fit between an individuals' interpersonal and emotional competencies and the requirements of the position they hold.
Growth & Development
[Is] present in a work environment where [individuals] receive encouragement and support in the development of their interpersonal, emotional and job skills.
Recognition & Reward
[is] present in a work environment where there is appropriate acknowledgement and appreciation of [individual] efforts in a fair and timely manner.
Involvement & Influence
[Is an] environment where individuals are included in discussions about how their work is done and how important decisions are made.
Workload Management
Present in [an] environment where tasks and responsibilities can be accomplished successfully within the time available.
Engagement
Present in [an] environment where [individuals] feel connected to their work and are motivated to do their job well.
Balance
Present in [an] environment where there is recognition of the need for balance between the demands of work [/school], family and personal life.
Psychological Protection
Present in [an] environment where individuals' psychological safety is ensured.
Protection of Physical Safety
Present in [an] environment where management [or administrators] takes appropriate action to protect the physical safety of employees.