Are you a registered nurse and an alumnus of UCalgary Nursing?
Give back and be inspired. Mentors say the energy and enthusiasm of the next generation of nurses is an inspiration, and a reminder of why they became a nurse in the first place.
If you have a passion for helping a student nurse and your experience has given you knowledge that would help someone starting out, consider mentoring a student. Your guidance could help them transition to the field with confidence and pride in their profession.
"I have not had the benefit of consistent mentoring in my career and felt I never learned the types of soft skills to maintain and establish a network when I was starting out. I'd love to share my insight of all the things I have had to learn on my own and hoping to help a student / new nurse realize their potential."
Winnie Tam, BN'09
RN and mentor in 2020
Your role as a nurse mentor
Role model & confidant
This role is different from a preceptor, a tutor, an instructor or a counselor. You will engage with your mentee to provide an environment of mutual trust, openness and respect.

Your mentee should feel free to ask questions and explore ideas. Mentors provide encouragement, support and constructive comments that contribute to their mentees' professional growth.
Commitment & resources
As a mentor, you will mentor a current nursing student from September to April. This typically involves a time commitment of two to three hours per month.

You and your mentee will exchange regular messages through our secure website and through other means as you choose. Mentors share personal experiences, ask questions, explore common interests and engage in a little small talk to build the relationship.

Mentors provide guidance, support and a window into nursing in the real world — all of which have enormous value for mentees.
Sharing passion & wisdom
Many alumni nurses say they've found immense personal and professional satisfaction from providing support and advice to nursing students.

NurseMentor is an opportunity to share your passion and wisdom with someone just entering the profession, and to help them learn and grow as they face the challenges of that transition.

For many nursing alumni, this is an opportunity to reconnect with the Faculty of Nursing and learn more about current initiatives. For those interested in enhancing their leadership and teaching skills, there are great learning opportunities in those areas as well.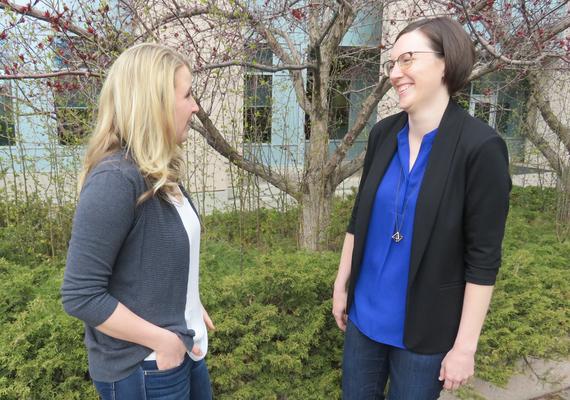 A friend and a confidant
Laura believes nursing students have a pressing need for mentors because their career path starts fast and is predetermined. It's a challenging career choice, and an honourable one.