Breakfast Lecture Series
Food for Thought: Faculty of Nursing Breakfast Lecture Series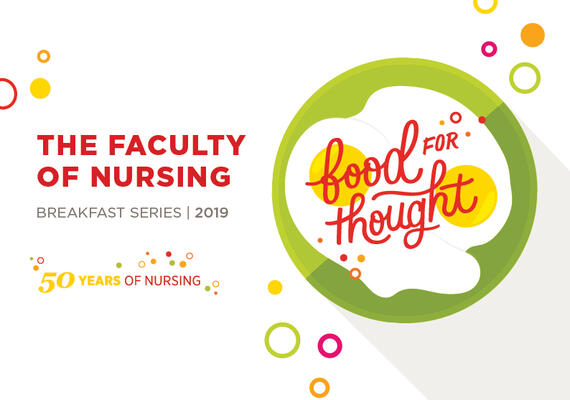 Come for breakfast. Stay for the big ideas.
Learn how nursing research makes a difference to our quality of life. The Faculty of Nursing Breakfast Lecture Series is made up of four annual lectures, meant to inform the community about innovations in nursing research and knowledge around a variety of topics.
Lectures are open to the public and everyone is welcome to come for the free breakfast and talk, followed by a Q&A.
#NURFood4Thought
2019 Speakers and Talks
All events are held at 7 a.m. - 8:30 a.m., Senate Room, Hotel Alma.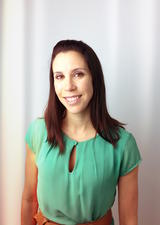 Shawna Curry, BN'11, BKin'03
"Lessons from the health system: What chronic disease management can learn from the success of the triage process"
Thursday, Feb. 21, 2019

How do you prioritize where to start when your patient's health is a disaster but not life threatening or critical?  Through application of a similar triage system of ABC's (airway, breathing, circulation) used in the health-care world, Shawna will outline a process to assess patient health that can allow patients to become more engaged in their own disease progression, potentially decreasing the burden of chronic disease management on the health-care system.
Shawna Curry (BN'11, BKin'03 ) has made her mark in the health and wellness space as an Amazon bestselling author, international speaker and personal health coach. Her writing has been published in Forbes Science, Inc., Impact and Bloom magazines. Her company, Health Redesigned, has been dedicated to total-health solutions and all of the aspects of healthy living including fitness, sleep, nutrition, self-help and overall lifestyle strategies.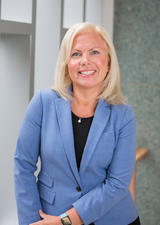 Linda Duffett-Leger, RN, PhD
"We have your back: Using wearable tech to reduce back injury among nurses"
Thursday, May 30, 2019
 
Did you know that nurses experience more back injuries on the job than construction workers? Dr. Duffett-Leger is working to mitigate back injury before it happens through development and testing of a wearable tech intervention that will allow nurses monitor and manage their back health.
Linda Duffett-Leger, RN, PhD has been an assistant professor in the Faculty of Nursing since 2014. She is currently leading an interdisciplinary study investigating how wearable devices can empower nurses to better monitor and maintain their back health. A member of the Biomedical Engineering (BME) Steering Committee and the Academic Committee on Entrepreneurship and Innovation (ACEI), she is also a Teaching Scholar at the Taylor Institute for Teaching and Learning for her work in implementing a team-based learning approach using innovative e-learning technology.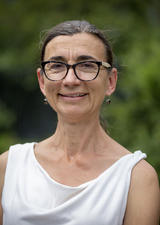 Carla Ginn, RN, PhD
"Resiliency in families living with low income: Effects of a two-generation preschool program after age 10 years"
Thursday, August 22, 2019
 
Families living with low income experience intergenerational inequities in health, education, family functioning and well-being. In the United States, two-generation preschool programs have demonstrated positive effects such as Improvement in children's school achievement, later income and decreased criminal activity; Canadian two-generation preschool programs are uncommon and research is limited. Dr. Ginn will explore why movement toward resiliency is more difficult for some and escaping intergenerational cycles of inequity requires ongoing community support.
Carla Ginn, RN, PhD is an assistant professor in the Faculty of Nursing and engages in community-based research at Calgary Urban Project Society (CUPS) Health Education Housing. She is also engaged in community-based research with the Métis Nation of Alberta – Region 3.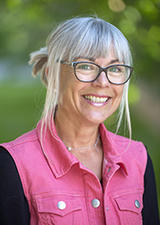 Eloise Carr, RN, PhD
"How living with a dog can improve the quality of life and well-being for people with chronic pain: A Human-Animal Pain Interaction (HAPI) story"
Thursday, November 21, 2019
Everyone at a point in their lives experiences pain; some live with pain every day. Nurses have a valuable role to play but does your dog? Dr. Carr will explore the management of pain in human health and the connections with veterinary medicine and how living with a dog might enhance the quality of life for people experiencing chronic pain.
Eloise Carr, RN, PhD is a professor in the Faculty of Nursing and an adjunct research professor in Community Health Sciences. Her pain research interests include postoperative pain management, pain and safety, chronic or persistent pain and interprofessional education. She has published over 80 articles, three textbooks and a DVD, is secretary to the Canadian Pain Society and a councilor on the board for the International Association for the Study of Pain. She also lives with her own rescue dog, Jack. 
2020 Speakers and talks
All events are held at 7 a.m. - 8:30 a.m., Senate Room, Hotel Alma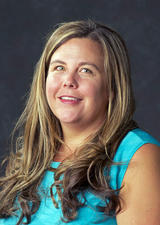 Thursday, February 20, 2020
"Fostering meaningful mentoring relationships"
Dr. Lorelli Nowell, PhD'17, MN'12
Mentorship is a topic that crosses disciplinary and hierarchical borders and provides opportunities for positive, mutually beneficial, and fruitful conversations that support growth and development. Dr Nowell will explore evidence-based practices to initiate, sustain, and assess mentoring relationships and offer suggestions on ways mentorship might be introduced and strengthened in different workplaces and in personal contexts.
Lorelli Nowell, RN, PhD has been teaching in the Faculty of Nursing since 2003 and recently rejoined the faculty as an assistant professor with a teaching and learning research professorship. Her collaborative, multidisciplinary program of research focuses on mentorship, studying innovations in teaching and learning, and the professional learning and development of nurses and educators. Lorelli has published in several high impact journals and frequently presents at regional, national, and international conferences, including being a keynote at the upcoming conference on postsecondary learning and teaching.
Online registration will open in late January.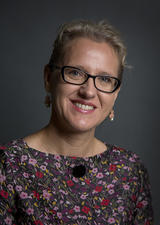 Thursday, May 28, 2020
"The Year of the Nurse & Midwife and Beyond: Charting the future of the nursing profession"
Dr. Sandra Davidson, RN, PhD
Coinciding with 200th anniversary of the birth of Florence Nightingale, the World Health Organization has declared 2020 as the first ever international year of the nurse and midwife.  This is a "once in a generation opportunity" to showcase the professions. In August 2020, UCalgary Nursing will also be launching a bold new strategic plan. Please join us as our dean shares highlights, insights and projections for the future of nursing in Alberta and beyond.
Dr. Sandra Davidson was appointed as Dean of the Faculty of Nursing at the University of Calgary in August 2018.She joined UCalgary from the University of Alberta, where she served as the Associate Dean for Undergraduate Programs (ADUP) in the Faculty of Nursing. She joined the University of Alberta in 2013 and assumed this administrative role in mid 2016. In her role as ADUP she oversaw the largest portfolio within the faculty. Dr. Davidson co-led the Curriculum Renewal Project that resulted in a renewed undergraduate curriculum that launched in fall 2018. She has served in a variety of positions in the United States, including Dean of Nursing and then Senior Director of Academic Affairs for Carrington College based in Phoenix, Arizona, and as the Director, Master of Healthcare Innovation Program Arizona State University. 
Online registration will open in late April.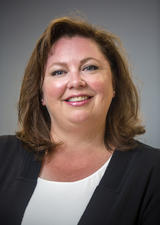 Thursday, August 20, 2020
"The challenges and opportunities in caring for the caregiver"
Dr. Gwen McGhan RN, PhD
There are only four kinds of people in the world: those who have been caregivers, those who are currently caregivers, those who will be caregivers, and those who will need caregivers" (Rosalyn Carter). 
Given the universal role of caregiving that will only continue to expand and evolve with our ageing population, Dr. McGhan will examine the use of tailored interventions to improve outcomes for people living with dementia and their family caregivers across the care continuum.
Dr. Gwen McGhan, RN, PhD is an assistant professor in the Faculty of Nursing. Her research interests include using a person and family-centred care lens to develop tailored interventions that target the needs of older adults, including those living with dementia, and their caregivers.  In addition to her research, she has been the lead on quality improvement initiatives with several community partners.
Online registration will open in late July.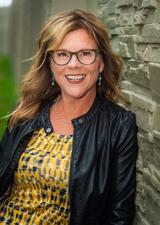 Thursday, November 19, 2020
"And Now For Something Different: Changing focus and finding your passion"
Bev Stevenson,

 BN'84
Nurses often speed towards Their Dream Job - the career chosen as a neophyte. Once there, the focus is to gain expertise and seniority until retirement. But what if you don't follow that path? Bev Stevenson challenges the concept of finding your joy in just one area of nursing and shares her personal journey of what can happen when you step outside your comfort zone. Repeatedly. In her 50s, has she finally found her passion? 
Bev Stevenson, RN has never played it safe. From ER nursing in the Caribbean to Flight Nursing with STARS Air Ambulance, to performing stand-up comedy and writing for Alberta RN Magazine. She has re-invented herself – and her nursing role – many times and discovered each nurse's power to effect positive change, to right wrongs. At 57, she took a right turn into public health as staff nurse in Calgary's Sexually Transmitted Infections Clinic and is currently pecking away at her first novel.
Online registration will open in late October.