NurseMentor
UCalgary Nursing's online mentoring program is now closed for registration for the Summer of 2020. If you are interested in joining for the upcoming season, please email the coordinator via the email address linked to the Join button below.
Fostering the next generation of nurses
NurseMentor registration is now closed for the season. However, we welcome your registration for the upcoming season to begin in September. Those interested in joining this support network in the fall are invited to email nursementor@ucalgary.ca. Please include your name, email and specify whether you are a mentor or mentee. The coordinator will reserve you a space and send registration details in August.

***

Through NurseMentor, alumni of UCalgary Nursing have helped students become more confident nurses.
In our third year, we hope to connect more talented RNs with our dedicated nursing students to offer insight and guidance.
The purpose of NurseMentor is to support undergraduate student nurses in their professional and personal development and to engage nursing alumni in a meaningful way. It is an online-based mentoring program with opportunities for group and individual networking.
The program kicks off in September 2019 as the fall term begins, and continues throughout the academic year.
All nursing students deserve a mentor. Consider being a mentor to an aspiring nurse, or seeking a mentor to help clarify your path into nursing.
"There's a big gap between the world you're exposed to as a student and the different place you find yourself in when you transition to practice: I think it would be have been really useful, personally for me, to have had that support not only as a student but again through that kind of transition."
Laura McKenna, BN'11
Nurse mentor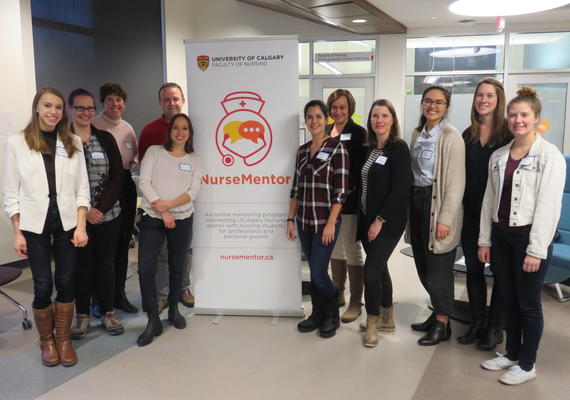 NurseMentor Online Mingle 2020
Thank you to those who attended the Mingle in May by Zoom!
We had a great open discussion about how you have adapted since the pandemic was announced.
Stay tuned for new program announcements.
We have plans underway for an exciting new networking group!
1: Register
In this step you will be asked a few questions about what interests you and what you hope to gain from mentoring. This will help us determine a best fit for you.
2: We do the matching
The NurseMentor coordinator will match you with a compatible mentor or mentee when one becomes available, and you will be notified.
3: You get connected
Student mentees should initiate the first contact with their mentor. Pairs determine how and when to connect - ideally, two contacts per month. Good communication is the key to a successful mentorship.
Want to learn more about mentorship and how this program for nursing students got started? Read more
Acute care nurse moved by acts of kindness during pandemic
Alumna Laura Ashburn BN'03 reflects on her hopes and fears as a nurse and mother during the pandemic...