NurseMentor
UCalgary Nursing's online mentoring program connecting alumni RNs with student nurses for
support and inspiration.
Fostering the next generation of nurses
COVID-19 UPDATE for NurseMentor, for March 19: Our mentoring program will continue beyond March to the end of April to give students and alumni more time to connect, online or by phone, during this unprecedented time. Student nurses may have some anxiety and a lot of questions for their mentors. Please keep in mind that many of our nurse mentors will be busier than ever and may not be able to respond quickly. However, this is an important time to come together and support one another.

***

Through NurseMentor, alumni of UCalgary Nursing have helped students become more confident nurses.
In our third year, we hope to connect more talented RNs with our dedicated nursing students to offer insight and guidance.
The purpose of NurseMentor is to support undergraduate student nurses in their professional and personal development and to engage nursing alumni in a meaningful way. It is an online-based mentoring program with opportunities for group and individual networking.
The program kicks off in September 2019 as the fall term begins, and continues throughout the academic year.
All nursing students deserve a mentor. Consider being a mentor to an aspiring nurse, or seeking a mentor to help clarify your path into nursing.
"There's a big gap between the world you're exposed to as a student and the different place you find yourself in when you transition to practice: I think it would be have been really useful, personally for me, to have had that support not only as a student but again through that kind of transition."
Laura McKenna, BN'11
Nurse mentor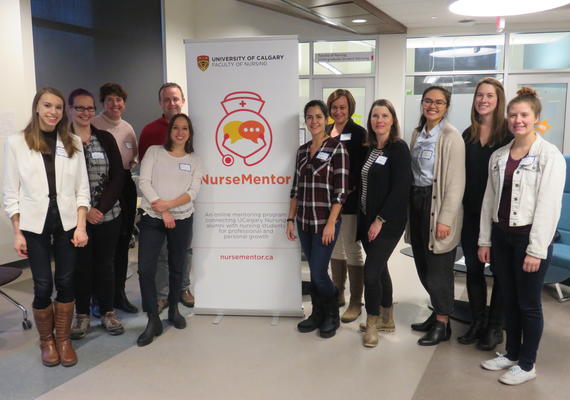 NurseMentor Spring Mingle 2020 - Cancelled
Given the escalation in COVID-19 cases, and based upon Alberta Health Services recommendations and the Public Health Agency of Canada guidelines on events, the University of Calgary has decided to cancel this event.
I am very sorry to have to cancel this gathering of our NurseMentor community. We will consider rescheduling when the time is right.
If you have any questions or concerns, please contact nursementor@ucalgary.ca.
1: Register
In this step you will be asked a few questions about what interests you and what you hope to gain from mentoring. This will help us determine a best fit for you.
2: We do the matching
The NurseMentor coordinator will match you with a compatible mentor or mentee when one becomes available, and you will be notified.
3: You get connected
Student mentees should initiate the first contact with their mentor. Pairs determine how and when to connect - ideally, two contacts per month. Good communication is the key to a successful mentorship.
Want to learn more about mentorship and how this program for nursing students got started? Read more
Mentor and mentee find common ground by exchanging stories about nursing experience
Flight nurse Mia Torres, BN'15, and fourth-year student Jennifer Bohn share passion for healthcare and learning from each other...