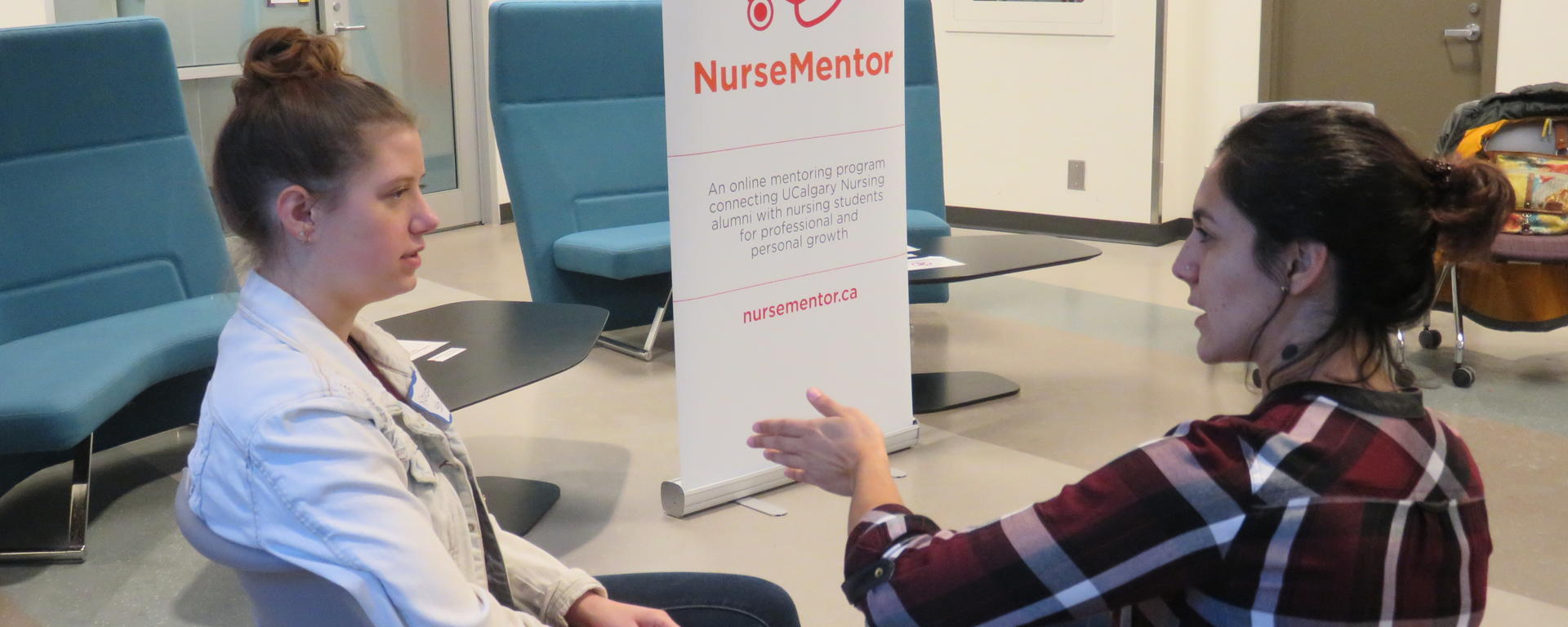 NurseMentor, a place to connect in 2021
Fostering the next generation of resilient RNs
"Pam's mentorship has been empowering. She reminds me to become comfortable with uncertainty while navigating change."
Sierra Pouliot
Third-year student nurse
UCalgary Nursing alumni and undergraduate students are invited to register!
Welcome to a new year, nurses and student nurses! Let's make it a great one.
New mentors and mentees are invited to register for NurseMentor as it continues through the second term of the 2020/2021 academic year. This season of mentoring will move ahead to provide a community for student nurses and working RNs to connect and support one another. The program will be reassessed throughout the term as we review the needs of students and the availability of nurses involved in the COVID response.
If you have questions about NurseMentor please email the coordinator: aimee.mains@ucalgary.ca.

***

Through NurseMentor, alumni of UCalgary Nursing have helped students become more confident nurses.

As we continue our fourth year, we hope to connect more talented RNs with our dedicated nursing students to share mutual insight and guidance. Those who were paired in the fall of 2020 will continue into the winter-spring term with their current partner.
The purpose of NurseMentor is to support undergraduate student nurses in their professional and personal development and to engage nursing alumni in a meaningful way. Mentoring is a success when both student and mentor are committed to a reciprocal relationship.
All nursing students deserve a mentor, while nurses need a fresh perspective and reminders of their love for nursing. Consider being a mentor to an aspiring nurse, or seeking a mentor to help clarify your own path as a new nurse.
Welcome to the new year!

Welcome back to all of you, and Happy 2021!
Thanks for your commitment to your very demanding profession and to your mentoring relationships.
A reminder to those who registered in the fall: your partnerships continue to the end of the 2020-21 academic year. New registrants are also invited to join for the winter term.
Looking forward to an enriching year of mentoring in 2021!
1: Register
In this step you will be asked a few questions about what interests you and what you hope to gain from mentoring. This will help us determine a best fit for you.
2: We do the matching
The NurseMentor coordinator will match you with a compatible mentor or mentee when one becomes available, and you will be notified.
3: You get connected
Student mentees should initiate the first contact with their mentor. Pairs determine how and when to connect - ideally, two contacts per month. Good communication is the key to a successful mentorship.
Want to learn more about mentorship and how this program for nursing students got started? Read more
Nursing student says mentoring relationship makes her grateful for choosing nursing
Third-year student Josie Morrison shares how she and mentor Bev Stevenson, BN'84 challenge each other and bonded...