UCalgary Nursing Alumni
Stay connected with a community of almost 8500 nursing alumni from UCalgary and share your stories with us!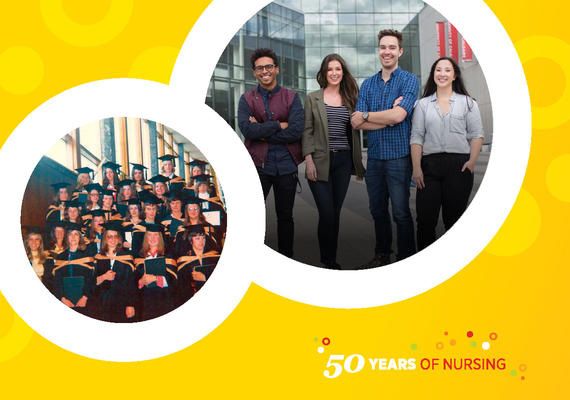 Celebrating Nursing Alumni 1974-2019
To mark our 50th year as a nursing school in 2019, we released a colourful booklet that looks at the inspiring leadership, history and achievements of the Faculty of Nursing Alumni over the years.
This book would not have come together without the committed work of Janice Arbour (BN'88), Arlene Johnston (BN'79, MEd'81) and Lorraine Watson (BN'79, MEd'81, PhD'91) who searched archives, scoured their own notes (and memories) and canvassed former Alumni Committee members for their recollections. 

Enjoy this slice of history and take pride in your place within it.
'No one knew what was going to happen with the virus and plans changed hourly, daily and weekly'
Alumna Kathryn Kurylo reflects on life and work on post-anesthetic care unit at Foothills as COVID becomes new normal...
50 Years of Nursing
In 2019 we celebrated 50 years of nursing education in Alberta.
Alumni Awards
Honours and awards for our Faculty of Nursing alumni
Publications
See full archives of our publications including Alumni Connections