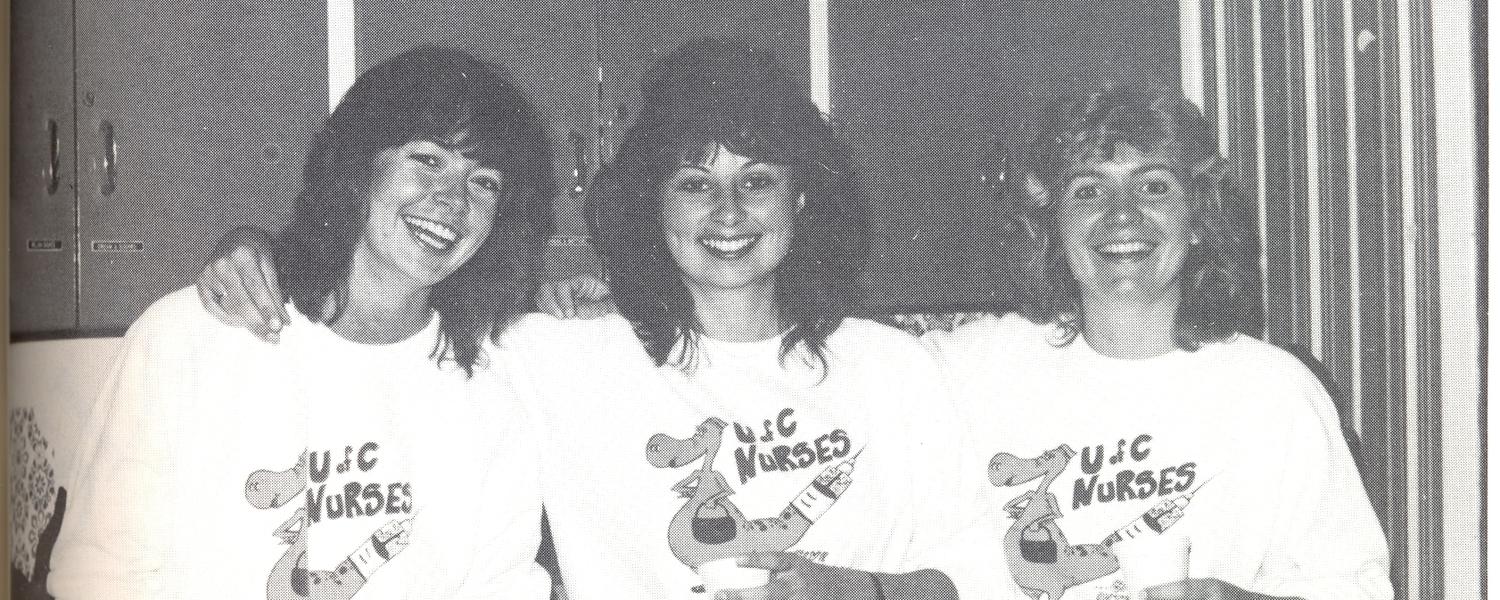 Our History
The Faculty of Nursing at the University of Calgary has a proud history going back 50 years. 
The Faculty of Nursing at the University of Calgary has a proud history going back more than 50 years. The faculty has grown from a school of nursing in the newly formed University of Calgary in the 1960s to a full-on faculty in the 1970s. It began with a Bachelor of Nursing program and has expanded to include a graduate program with master's, nurse practitioner and doctoral studies. Concurrent with the addition of graduate studies, the faculty embarked on development of a research program. By 2015, the faculty proudly supported four chairs in nursing research and two research professorships.
UCalgary Nursing continues to lead the pursuit of nursing excellence, influencing and changing the face of nursing education, research and practice.
1954 
University nursing education in Calgary begins when Bachelor of Science nursing students from the University of Alberta take the first year of courses at the Calgary branch of UAlberta.
1966 
The University of Calgary obtains independence from UAlberta; that same year, the opening of two new hospitals in Calgary creates a more pressing need for nursing staff from this city.
1968 
University of Calgary administration agrees to establish a School of Nursing
1969 
First School of Nursing director (Shirley Good) is appointed
1970 
First class starts in September
1974 
First class graduates from the Bachelor of Nursing program from the University of Calgary
The faculty moves from the Education Tower to the fifth floor of the Social Sciences building
1975 
School of Nursing becomes Faculty of Nursing
1977 
The faculty graduates its first post-diploma nurses in keeping with mission to more adequately prepare registered nurses for leadership positions. 
1980s 
The faculty's research capacity grows steadily with a combination of research projects undertaken and increasing availability of research funding for nursing projects.
1981 
First class of Master of Nursing students begins
The faculty moves to the fourth floor of the Biological Sciences building
1982
Family Nursing Unit established. This marked the beginning of a rapidly expanding graduate research and service program at the Faculty of Nursing
1988
Joint Venture Feasibility initiative undertaken by Faculty of Nursing, Foothills Hospital
1990s 
The faculty's research initiatives gather more momentum with an expanding number of research and service groups.
1993
The Faculty of Nursing implements a Bachelor of Nursing Program conjointly with the Foothills Hospital School of Nursing and Mount Royal College Department of Nursing and Allied Health called the Calgary Conjoint Nursing Program (CCNP).
Multimedia Development Laboratory established and Learning Resource Centre expanded with grant support from Shopper's Drug Mart.
1994 
First PhD in Nursing degree is conferred
The faculty moves to the newly constructed Professional Faculties Building
1997
First class graduates from the CCNP
1998
Southern Alberta Nursing and Health Research Resources Unit (SANHRRU) opened
Faculty hosts the seventh Biennial North American Learning Resource Centres Conference
1999 
First PhD in Nursing class is admitted
Web-based Post Diploma Program begins in collaboration with Centennial College
International partnerships with nursing programs initiated at University of Tampere, Finland and Kagawa Medical University, Japan
2000 
Partnership signed between Medicine Hat College and University of Calgary 
2001 
Nurse practitioner diploma program is initiated
First cohort of Bachelor of Nursing students at Medicine Hat College is admitted
2004
CCNP program discontinued
Dr. Geertje Boschma publishes a history book on the faculty called Faculty of Nursing on the Move:  Nursing at the University of Calgary 1969 - 2004
2006 
The University of Calgary and State of Qatar sign an agreement to establish a undergraduate nursing education program in Doha, Qatar, patterned after the Calgary curriculum.
2007 
50 nursing students are admitted to the University of Calgary in Qatar
2008
Susan Smith (BN'75) is awarded the University of Calgary's Distinguished Alumni Award for her work in Mexico.
The faculty receives a $1.1 million donation from Dr. Barrie Strafford to establish a centre of excellence for gerontological nursing.
The Family Nursing Unit closes its doors.
PDBN program suspended.
2009    
Clinical Simulation Learning Centre opens 
2011 
Nancy Moules, PhD receives the first ever professorship in the faculty: the Alberta Children's Hospital Foundation/the Alberta Children's Hospital Research Institute Professorship in Child and Family Centred Cancer Care
2012
Nicole Letourneau, PhD becomes the faculty's first ever research chair, the Norlien/Alberta Children's Hospital Foundation Chair in Parent-Infant Mental Health 
2013 
Lorraine Venturato, PhD becomes the faculty's Chair in Gerontology
2014            
The inaugural Marguerite Schumacher Memorial Alumni Lecture is established and presented by Jo-Ann Hnatiuk (MN'01) in September as part of celebration of 40th anniversary of first graduating BN class
2015 
Kathryn King-Shier, PhD is appointed the Guru Nanak Dev Ji Dil (Heart) Research Chair
Nancy Moules, PhD becomes the Kids Cancer Care Foundation Chair in Child and Family Cancer Care
2016
A Faculty of Nursing Community Advisory Council is established with key alumni and external partners tasked with advising the dean on strategic directions and initiatives that extend the profile of the faculty.
The faculty hosts a day-long compassion conference in conjunction with Congress 2016, the Federation for the Humanities and Social Sciences annual event, which includes a keynote address from Margaret Atwood
In conjunction with the Royal Alexandra Hospital Foundation in Edmonton, the Lois Hole Hospital Cross-Provincial Chair in Perinatal Mental Health is established with Dr. Dawn Kingston, PhD as chair holder.
2017
An innovative online mentorship program, NurseMentor,  with alumni as mentors and undergraduate students as mentees launches a pilot program with 18 pairs.
A first of its kind in Canada, the MN/MBA program, in conjunction with UCalgary Haskayne School of Business, is launched.
In response to the Truth and Reconciliation Commission's call to action for nursing schools, the faculty creates two roles for Indigenous Initiatives.
2018
The faculty held its first pinning ceremony for graduating nursing students in conjunction with June's convocation.
First-year students were gifted with a red logo-ed backpack at the We've Got Your Back event, designed to provide a visual connection among these new students.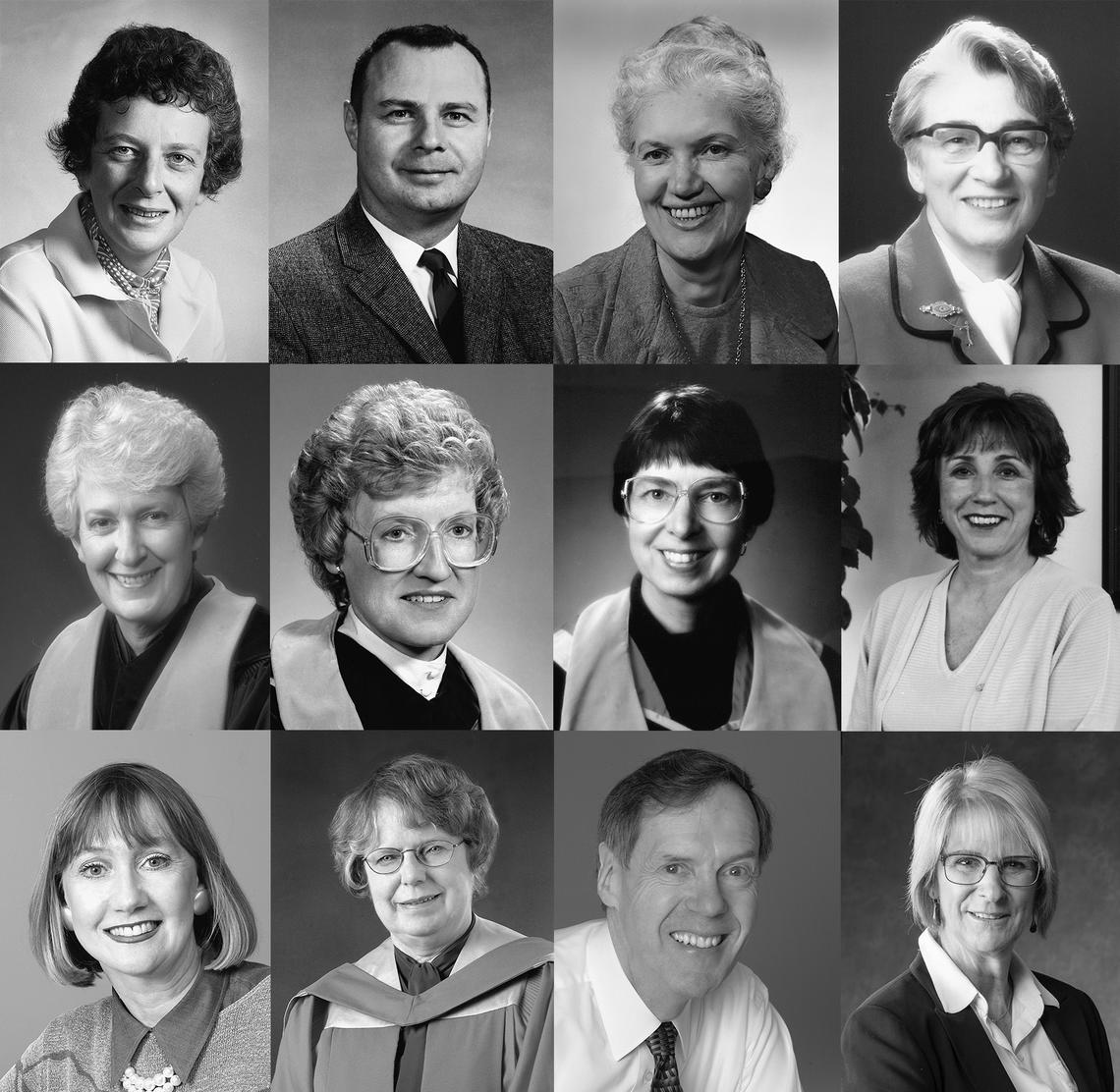 Our directors and deans through the years
Shirley R. Good, RN PhD
Fred Terentiuk
1972 to 1974, Acting Director
Marguerite E. Schumacher, RN MEd
1974 to 1975, Director
1975 to 1979, Dean
Margaret Scott Wright, PhD
1979 to 1985, Dean
1989 to 1990, Acting Dean
Joy D. Calkin, RN, PhD
Janet L. Storch, RN, PhD
Carol Rogers
1995 to 1997, Acting Dean
Deborah Tamlyn, RN PhD
Florence Myrick, RN, PhD
2002 to 2003, Acting Dean
Marlene Reimer, RN, PhD
2003 to 2004, Acting Dean
Michael Clinton, RN, PhD
Dianne Tapp, RN, PhD
2007 to 2008, Acting Dean
2008 to 2009, Interim Dean
2009 to 2018, Dean