Finding Florence: A First Look at the New UCalgary Nursing
Learn more about the founder of modern nursing while getting a tour of the renovated Professional Faculties Building.
Learn more about Florence and tour our building!
We celebrated Alumni Month by honouring the legendary nurse Florence Nightingale and are taking you on a short 20-minute tour of our newly renovated Professional Faculties Building, home of UCalgary's Faculty of Nursing.
This virtual tour, led by alumnus MJ Calungcaguin BN'17, will guide you through each of the four floors where you'll bump into some  "Find Florence" fun.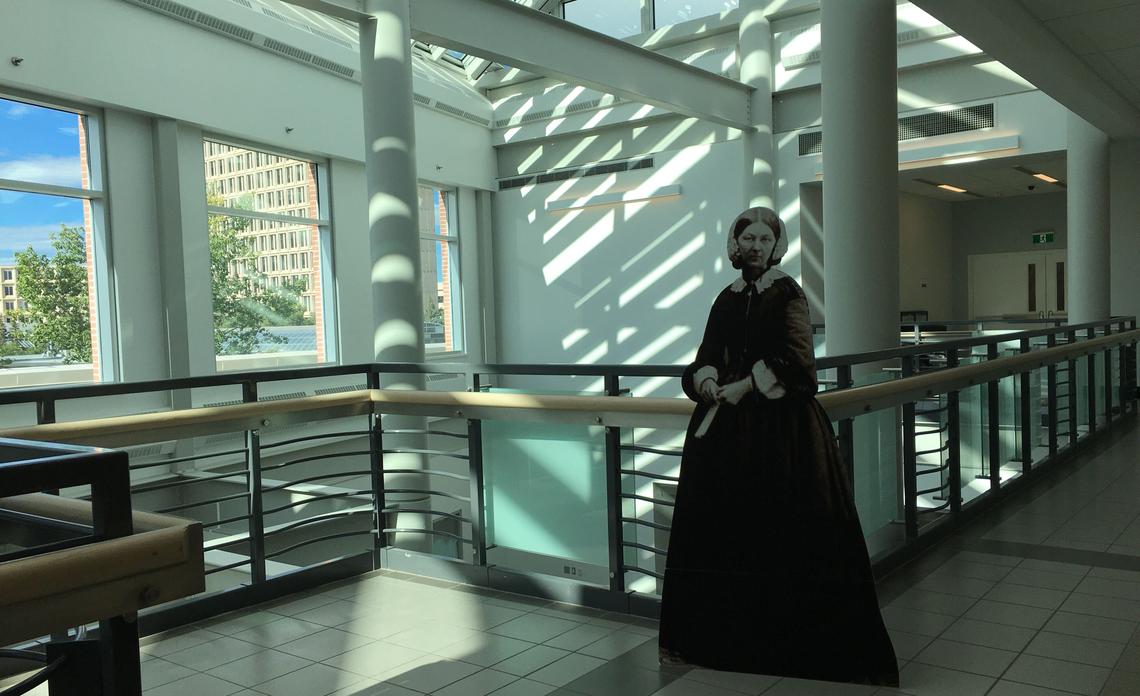 She's named after the city of Florence in Italy
Florence Nightingale was born on May 12, 1820 in Florence, Italy. Her family moved to England just a year later, when she was one.
She's known as the 'Lady with the Lamp'
How did Florence get her nickname "Lady with the Lamp?" During the 1853 Crimean War, she regularly did rounds, carrying a lantern, to assess injured soldiers.
She was the original hygiene advocate
She was influential in improving hospital sanitation and hygiene policy in the UK.
She was an influential leader
She put nursing practices in place such as infection control, public advocacy and therapeutic communication, which have become the core of modern nursing.
Welcome to the newly-renovated Professional Faculties Building, completed in the summer of 2020
This series of videos (20 minutes total) will tour you through each floor in the building with one of our wonderful alumni executives as your host. The faculty now occupies all four floors of the building instead of just two.
These videos were created as a celebration of Alumni Month 2020 using a VR camera for a 360 degree view of our space. Be sure to click on the arrows in each clip or drag your mouse around to see more of the each area.
She made pie charts cool
Applying skills in math learned from her dad, Florence Nightingale used the dessert-shaped diagrams to compare death and disease statistics within the British army.
Florence was a precocious kid
She read and wrote at an early age and liked to talk politics with her father.
She was a polyglot
Florence spoke English, French, Italian and German fluently and had a good grasp of Latin and Greek.
She's a writer too
While she's seen as the founder of modern nursing, Florence was also an English social reformer, statistician and writer. She wrote a few medical books - in simple English so that anyone could understand – as well as works on religion and mysticism.
Florence was a medical tourist
Florence loved to travel and gain insight into global health care. She trotted the globe exploring hospital practices in places like Germany and Greece and advised her patients to visit cities where health care was more affordable. She is considered to have inspired medical travel.
She had royal connections
Queen Victoria gave her an engraved brooch – known as the Nightingale Jewel – to honour her contributions during the Crimean War. The pair eventually met in 1856 and they stayed pen pals for the rest of their lives.
And King Edward VII awarded her the British Order of Merit. She was the first woman to be inducted and she would be the first and only woman for the next 58 years with this distinction.
She contracted Crimean fever
While she was nursing during the Crimean War, Florence contracted Crimean fever. She never fully recovered from the infection, but did not let her illness keep her from pursuing her professional goals and changing the course of the nursing profession.
She chose career over nuptials
In spite of family pressures, Florence rejected a few marriage proposals, including one from her cousin. She never married.
She was offered a special burial spot in Westminster Abbey
Florence refused the offer to be buried where only the deceased elite were interred. Instead, she was laid to rest in the family plot in Hampshire, England when she died.
The story behind Nightingales
In 1860, Florence established the first ever nursing school connected to a full-service hospital called the Florence Nightingale Faculty of Nursing, Midwifery & Palliative Care. Graduates of the school were called Nightingales.
Congrats to our Finding Florence contest winners: Vivian Lai BN'91 and Gaylynne Plysiuk, Graduate Programs