NurseMentor
UCalgary Nursing's online mentoring program connecting alumni RNs with student nurses for professional and personal growth
Fostering the next generation of nurses
Through NurseMentor, alumni of UCalgary Nursing have helped students become more confident nurses.
In our third year, we hope to connect more talented RNs with our dedicated nursing students to offer insight and guidance.
The purpose of NurseMentor is to support undergraduate student nurses in their professional and personal development and to engage nursing alumni in a meaningful way. It is an online-based mentoring program with opportunities for group and individual networking.
The program kicks off in September 2019 as the fall term begins, and continues throughout the academic year.
All nursing students deserve a mentor. Consider being a mentor to an aspiring nurse, or seeking a mentor to help clarify your path into nursing.
"Students are the future of the profession. This is a way I can contribute to a new generation of nursing leaders. I see that in Megan."
Eleanor Benterud, MN'02
Mentor in 2018/19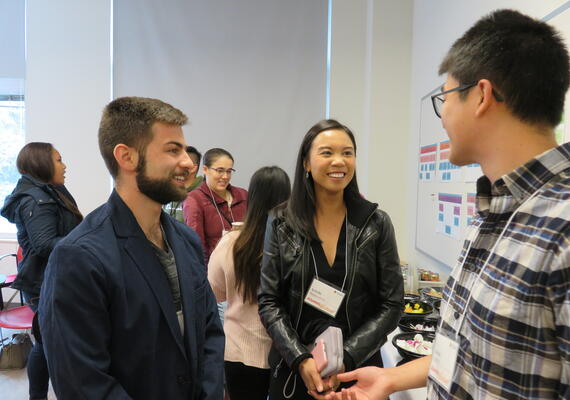 Join us at the Fall Mingle!
A great chance for mentors and mentees of NurseMentor to meet and mingle! Other UCalgary Nursing students and alumni interested in the program also welcome. Good conversation, networking and nibbles on campus in the PF Foyer!

NurseMentor Fall Mingle
Thursday, Nov. 28
3:30PM to 5:30PM
1: Register
In this step you will be asked a few questions about what interests you and what you hope to gain from mentoring. This will help us determine a best fit for you.
2: Get matched
The NurseMentor coordinator matches you with a compatible mentor or mentee and you are notified.
3: Get connected
Student mentees initiate the first contact with their mentor, then pairs determine how and when to connect.
Want to learn more about mentorship and how this program for nursing students got started? Read more
New nurse finds friend and confidant in her mentor
'You just need a person who gets it,' says Laura McKenna of her NurseMentor match Jackie Kresnyak...