Innovations in Teaching and Learning
The Innovations in Teaching and Learning certificate prepares participants for advanced practice in clinical, simulation, and classroom education. The certificate adopts a blended approach of both online and face-to-face learning experiences.
The first course focuses on foundational learning theory and evidence-based models. The second course explores development of self as educator, relational aspects of teaching and learning and teaching context.
Integrative seminars in the third course provide an opportunity to learn about specific teaching modalities and strategies such as simulation, signature pedagogies and updating traditional classrooms. In the final course, participants develop their own personal teaching philosophy and complete a demonstration teaching project.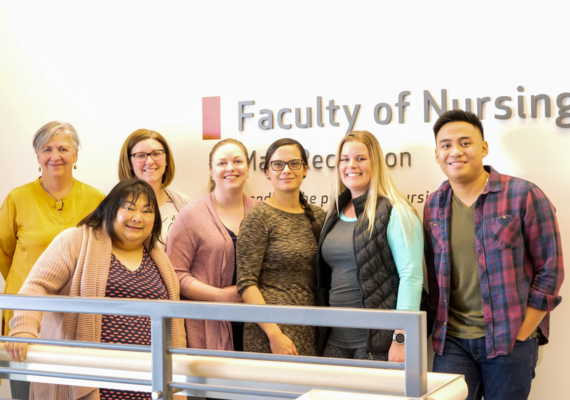 Practicing RN explores love of patient teaching
Having just completed UCalgary Nursing's Innovations in Teaching and Learning certificate, Tralene Grillone, BN'03, is on track to complete her Master of Nursing in 2022
Residency Dates
**UCalgary will be offering all 2020 Fall courses on line.
Residency dates will continue as scheduled in a virtual format.
For details/information, please contact the course instructors for each respective certificate
Feb. 1, 2021
WINTER 2021
NURS 624
1 day - February 1 - all day 
May 25, 2021
SPRING 2021
NURS 626
2 days - May 25-26
May 26, 2021
SPRING 2021
NURS 626
2 days - May 25-26
Janet Rankin 
Associate Professor, Faculty of Nursing
NURS 622 - Fall 2020
Foundational Philosophy for Teaching and Learning Across Contexts
Prepares students to teach in direct settings, simulation, online, as well as conventional classrooms. Focuses on building a philosophy for teaching and learning that incorporates foundational teaching and learning theory applicable to a variety of student contexts.
Instructor
NURS 624 - Winter 2021
People, Places, and Relationships
Involves the critical examination of teaching and learning specific to advancing professional practice with emphasis on cultivating relationships for learning, learning across diversity. Also focuses on generation of possibilities for change and innovation and consolidation of preferred teaching and learning practices in a selected focus of study.
Instructors
NURS 626 - Spring 2021
Integrative Seminars: Current Trends in Teaching and Learning
Introduces specialized topics in teaching and learning and provides an opportunity to engage in critical reflection and analysis. Students will explore a variety of teaching and learning strategies within multiple contexts. and develop their individualized teaching practice.
Instructor
NURS 628 - Summer 2021
Specialized Practice Demonstration
Students will provide a demonstration of innovative teaching and learning strategies within a focused context (online, simulation, classroom, or clinical practice). Formulation and delivery of a proposed teaching and learning advanced practice demonstration will include a final report and recommendations.
Instructor