Welcome to our 2022-2023 Report to Community, a review of what we have accomplished and continue to work toward as outlined in our 2017 - 2024 strategic plan.
As I announced in my message in last year's report, I am delighted that my term has been renewed for an additional five years.  The official announcement was made by the Provost in August of 2022, so it technically falls into this year's news.  That renewal signifies to me the confidence and trust of our students, staff and faculty - we are moving in the right direction. Another highlight for Canadian nursing this past year was the appointment of Dr. Leigh Chapman to the role of Health Canada's Chief Nursing Officer after a 12-year vacancy of this role. We had the honor to host Dr. Chapman at UCalgary this past winter on her cross country check-in with nurses. Her advocacy for our profession at the federal level and her vision for the unity of all nurses across this nation is truly inspiring. Together we can do so much!
We are now in the final year of our strategic plan. I am delighted with the progress we have made, much of which you will read about in this report.  That includes: the research inroads we have made that foster a culture of innovation; the strength and perseverance of our students as we come out of the past three years of turmoil; our leadership in developing new undergraduate routes in rural Alberta; our re-visioned graduate programs and new graduate certificates; and the permanency of our NP-led mental health and wellness clinic, now no longer a pilot program thanks to the sustained contributions of dedicated faculty and staff. Our Faculty has also been bolstered by the Alberta government's funding of 96 new seats for our Bachelor of Nursing program; the success and awards of faculty members; the continuing drive of our undergrad students to seek funding to support their peers; and the community confidence and engagement that we have experienced in our initiatives.
I begin this new year with a brief leave to gather more energy for strategic planning in 2024 and furthering the leadership we have shown as a top nursing education academy in Canada. I am excited by what is ahead: progressive movement toward more Indigenous initiatives led by our new director for that portfolio; strengthened partnerships with our health-care community and our Calgary and provincial community in general; a celebration of 30 years in our home, the Professional Faculties Building; and perhaps most importantly, the return to more regular, in-person, on-campus interactions.  Those have been sorely missed.
Happy reading!
Dr. Sandra Davidson
Dean, UCalgary Nursing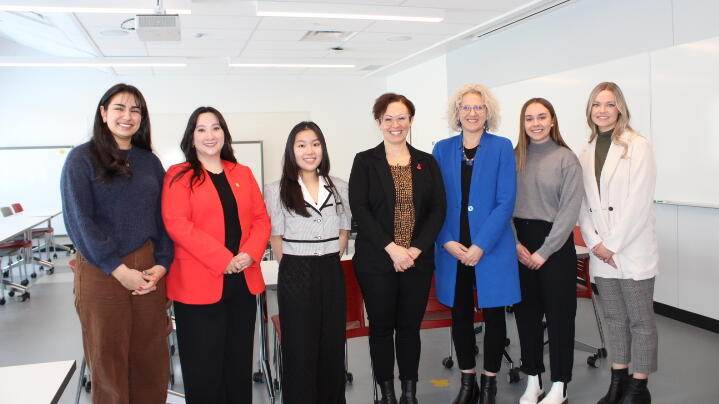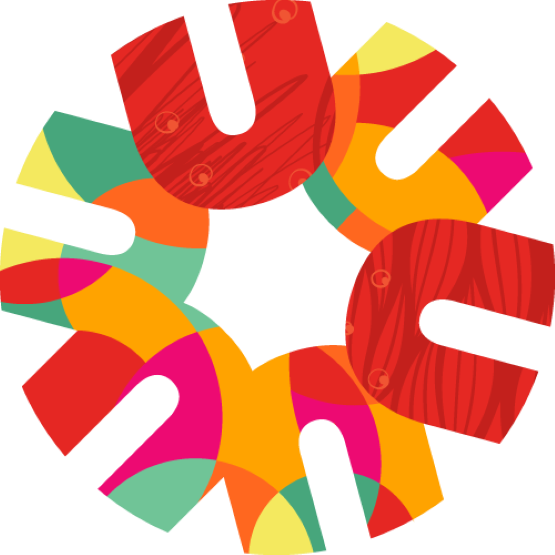 The Culture and Practice of Nursing
"A personal highlight this year was being interviewed by Julia MacGregor of Now Innovating during National Nursing Week and Canadian Innovation Week in May.  In our conversation I was able to highlight the program innovations we've implemented in our Faculty and I also highlighted the important role of nursing research and innovation in transforming our health system."
We lead the generation of research and scholarship to improve and innovate nursing education, health outcomes and systems transformation.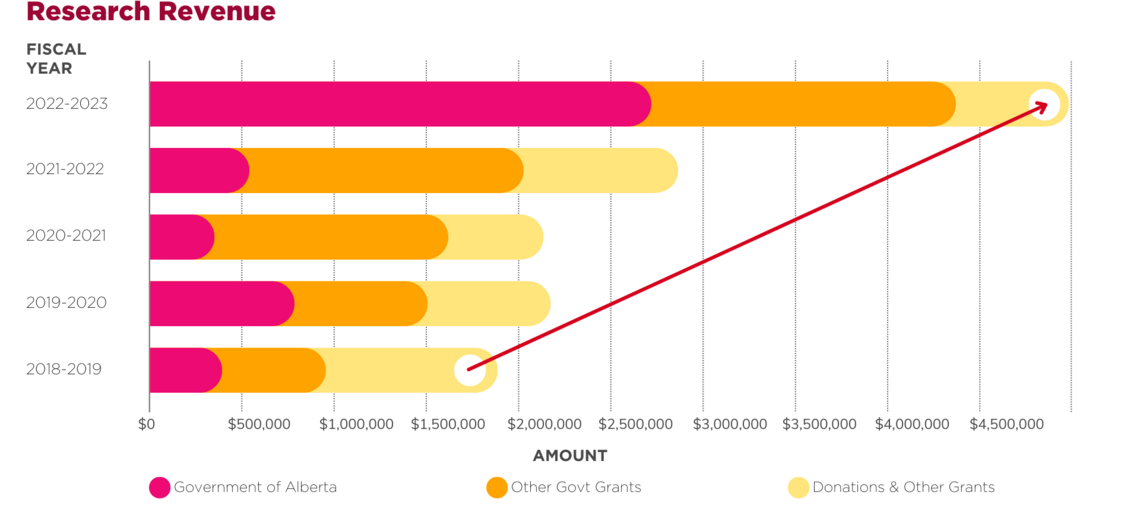 Publications and Presentations
Period: April 2022 - May 2023
Source: Faculty self-reported numbers
| | |
| --- | --- |
| PUBLICATIONS |   |
| Books | 2 |
| Chapters | 16 |
| Peer-reviewed journal articles | 217 |
| Published conference papers and abstracts | 74 |
| Other papers | 5 |
| PRESENTATIONS |   |
| Invited-provincial/national | 92 |
| Invited-international | 28 |
| Provincial | 41 |
| National | 46 |
| International | 60 |
Quality and Breadth of Learning
We deliver resiliency-informed experiential programs that develop the future leaders and innovators of the discipline and nursing practice. 
UCalgary Nursing, Portage College and AHS partner for collaborative degree program
UCalgary Nursing has been teaming with Alberta Health Services to tackle the significant nursing shortage that is projected to continue and increase in rural and remote areas of the province. In addition to the program in Wainwright [September 2021], in January 2023, a new program for LPNs was launched in northern Alberta.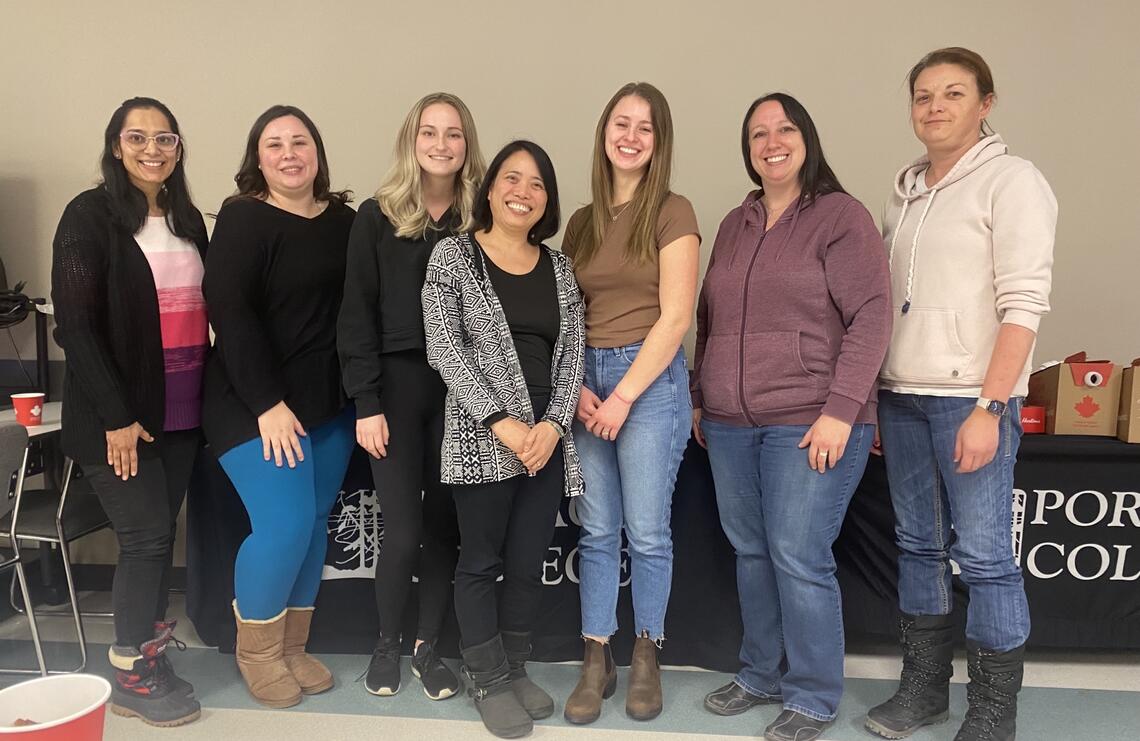 Undergraduate students address on-campus alcohol consumption
Our undergraduate students continue to investigate ways to better their communities with their clinical placement projects. This cohort of second-year students addressed alcohol consumption on campus to find ways to minimize the risk and consequences to first-year students living in residence.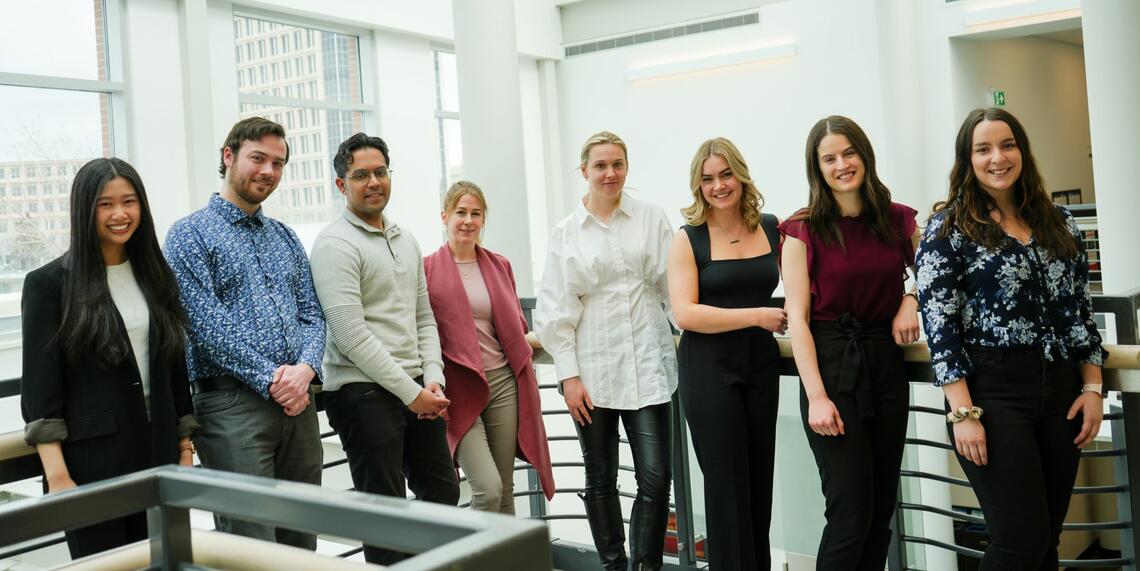 NP Mental Health & Wellness Clinic no longer a pilot program
In 2017, our strategic plan focused on promoting wellness for work and study and in 2021, launched a pilot NP-run clinic.  Since then, we endured a pandemic that put enormous pressure on us all, but especially our students. We have continued our commitment to the quality of student learning by heightening our services and, in June 2023, we made a permanent commitment to that wellness space. 
We engage with local and global communities to develop sustainable relationships for mutual benefit and increased resiliency.
Nursing faculty collaborates with Cumming School of Medicine's Snyder Institute for Chronic Diseases for Science in the Cinema
In March, the faculty partnered with the Cumming School of Medicine on their long-running Science in the Cinema (SITC) series to bring awareness to World Tuberculosis Day (March 24). This collaboration illuminated the many ways medicine and nursing work together: stay tuned for more SITC collaborations in the new season.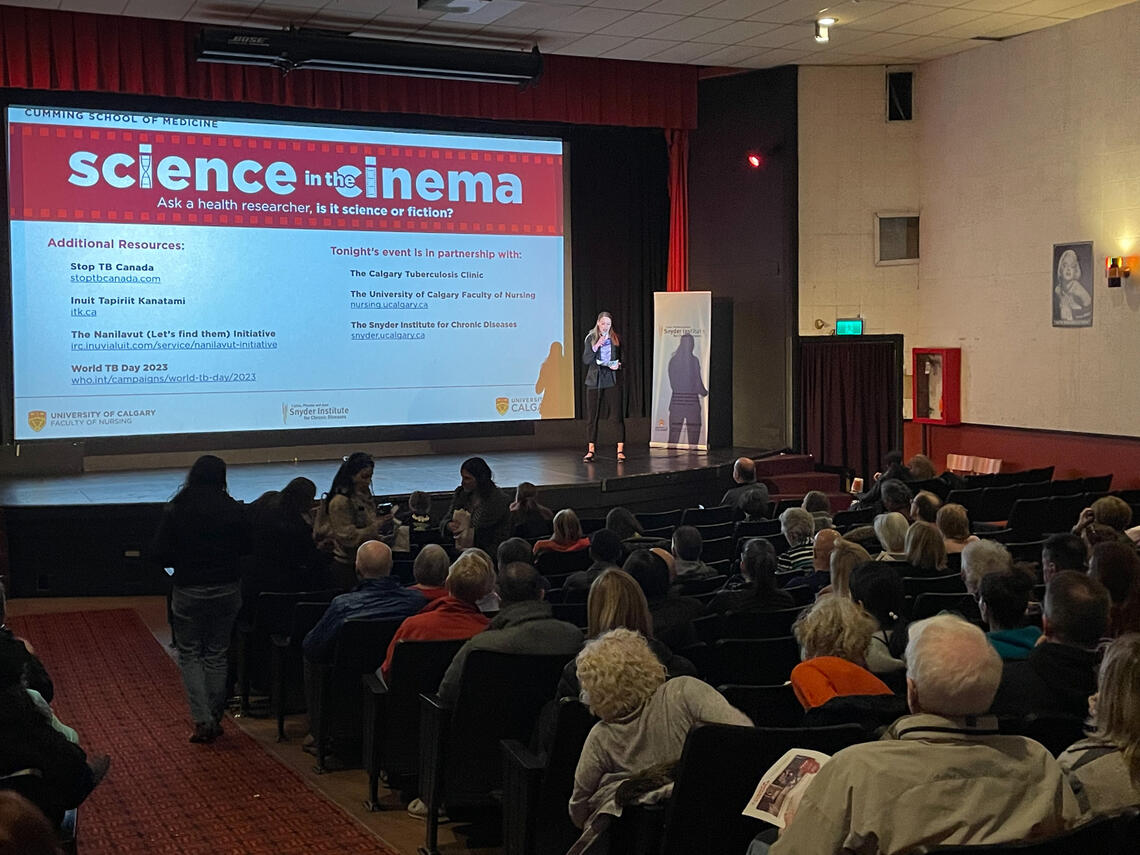 UCalgary Nursing strengthens efforts to understand its role in Indigenous health care
Since the hiring of Dr. Michelle Scott as UCalgary Nursing Indigenous director in January 2023, that portfolio has been energized by new initiatives. Scott is capitalizing on the work previously done as well as envisioning and actioning the next steps for Indigenous teaching and learning in the faculty. 
Undergrad brings nursing perspective to Indigenous Health Program at Foothills
Eva Haigh-Baptiste is from the Samson Cree Nation. Her summer student position at Cumming School of Medicine (CSM) as the Indigenous Health Program (IHP) assistant allows her to support med students and to connect with her Indigenous culture.
At CSM, the Indigenous Health Program is committed to supporting Indigenous learners and confronting the issues faced by Indigenous people both in the health-care system and at UCalgary. The program facilitates the inclusion of Indigenous people and knowledge within the CSM and supports institutional initiatives in education, research and health care that aim to improve health outcomes with all Indigenous people.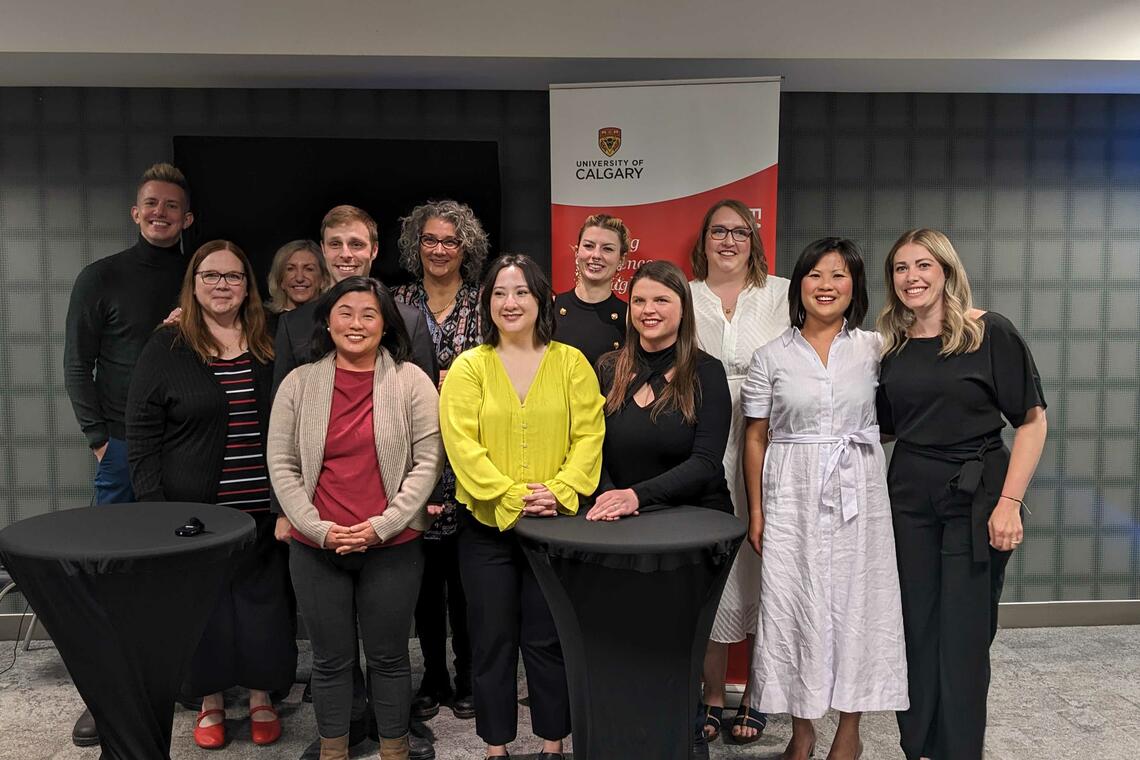 UCalgary Nursing hosts its first Nursing Story Slam
The tradition of the "poetry slam," or performance poetry, is the basis for the story slam and UCalgary Nursing's Research Office held its first this past April. The success of the event will hopefully encourage a larger community of health-care practitioners to participate and contribute stories next year. 
Donations made between July 2022 and June 2023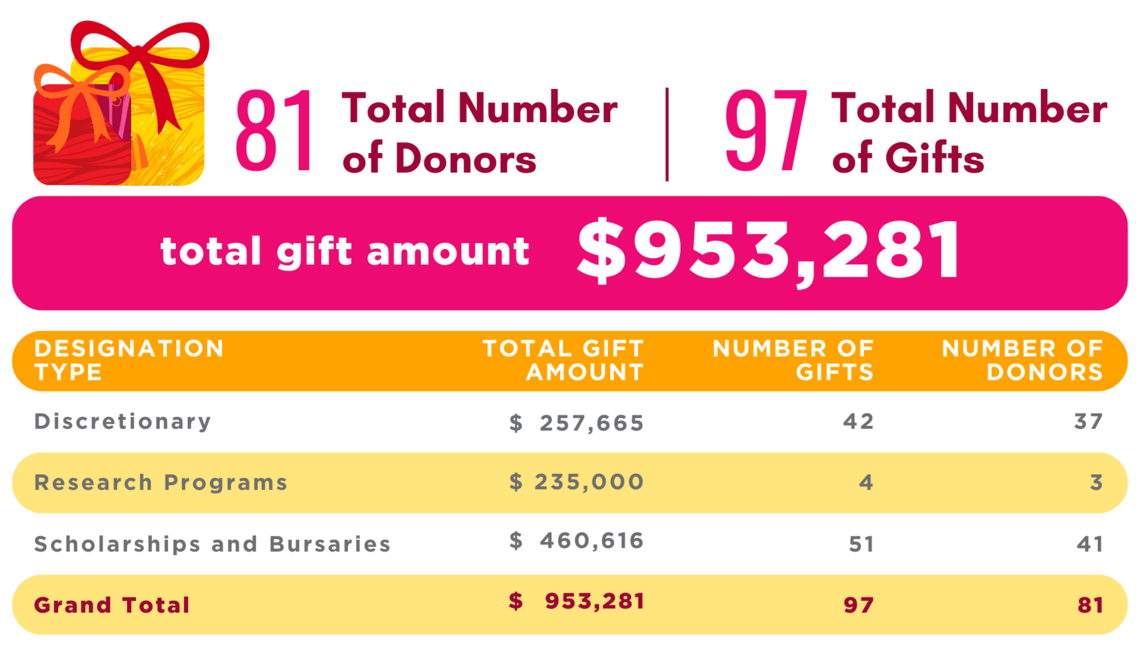 Have any questions or comments?
The 2022-2023 Report to Community was created by the UCalgary Nursing Advancement Team. If you have any questions or need more information, please contact us.