Dr. Dawn Kingston, PhD, RN
Lois Hole Hospital for Women Cross-Provincial Chair in Perinatal Mental Health 
Partnership between the University of Calgary and Royal Alexandra Hospital Foundation shines a light on the mental health of pregnant and postpartum women
The Royal Alexandra Hospital Foundation in Edmonton and the University of Calgary's Faculty of Nursing have joined to fund research into anxiety and depression in pregnant women and the long term outcomes on their health and the health of their children.
The Lois Hole Hospital for Women Cross-Provincial Chair in Perinatal Mental Health partners academic research in Calgary with clinical care at the Lois Hole Hospital for Women, and brings together the areas of nursing, obstetrics and psychiatry. Researchers attached to the chair will look at mental health issues that can arise during pregnancy and postpartum — known as perinatal mental health — and the impact this can have on families and communities. They'll also work with couples dealing with fertility challenges and women coping with pregnancy loss.
Chair recipient, associate professor Dawn Kingston, is a noted researcher whose been working in the perinatal mental health area for more than 10 years. New evidence is shifting the understanding of perinatal mental health globally, she explains.
"We used to think that the main mental health problem was postpartum depression. But the science doesn't support that anymore, and how we set up our mental health system and direct our resources should follow the science.
"This gift offers the opportunity to continue building the science upon which we can found a universal system of perinatal mental health care so that all women can receive the care they need and so we can improve the lives of Albertan, and Canadian families."
Royal Alexandra Hospital Foundation
Alberta Children's Hospital Research Institute
Alberta Health Services
Alberta Innovates
Canadian Institutes of Health Research
Max Bell Foundation
Norlien/Palix Foundation
Royal Alexandra Hospital Foundation
Women and Children's Health Research Institute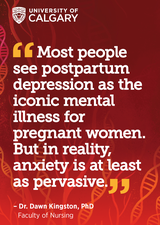 Changing the future for pregnant women and new mothers
The delicate dance performed by genetics and environmental factors takes centre stage in the study of perinatal anxiety. Just ask Dr. Dawn Kingston, RN, PhD, associate professor in UCalgary's Faculty of Nursing, the Lois Hole Hospital for Women Cross-provincial Chair in Perinatal Mental Health, and a member of the Mathison Centre for Mental Health Education & Research.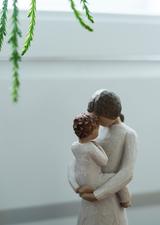 Pregnant Women Need to be Screened for Anxiety and Depression
Do you have a loved one that's currently expecting or are you pregnant yourself? Many pregnant women, new mothers and those that care for them fear postpartum depression. They've heard stories of women with postpartum psychosis who harm themselves and their babies. They worry that it could happen to them, too.