UCalgary Nursing Class of 2020
In light of COVID-19 and our inability to gather together on campus, in-person graduation ceremonies this June were postponed to November. Instead, UCalgary will be holding a virtual celebration to recognize all our graduates in the Class of 2020 on June 25.
Even with physical distancing in place, we want to mark your achievements with heartfelt messages from your classmates, faculty members and staff. We are so proud of you!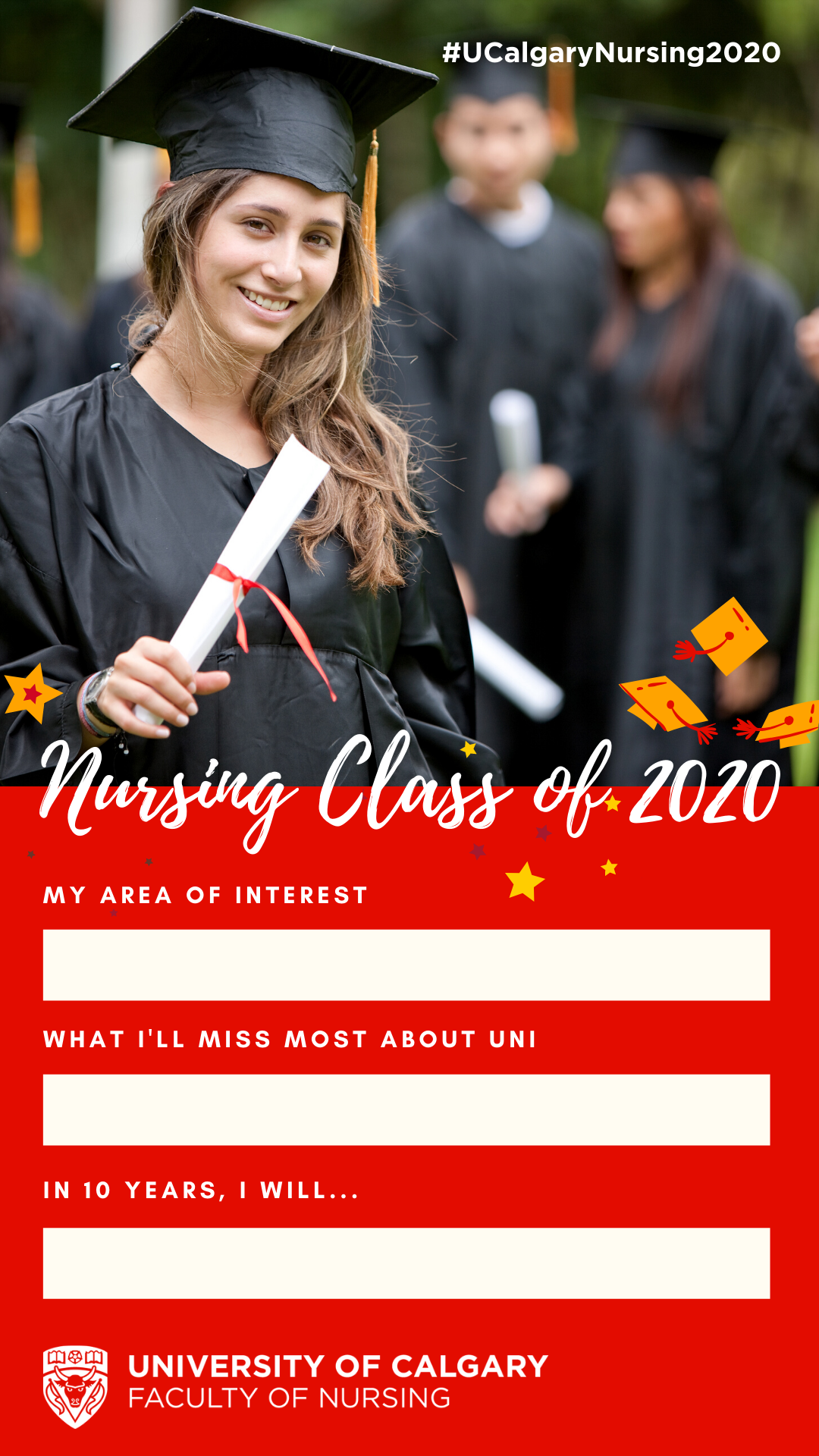 Congratulations Class of 2020! As our valued new alumni, we want to hear from you!
How are you celebrating this important milestone? Post your celebration photos, updates and messages using #UCalgaryNursing2020 as the primary hashtag.
Download one (or all) of the attached Instagram Stories templates, insert a photo or yourself and share on social media by tagging us at @ucalgarynursing!
How to create your own #UCalgaryNursing2020 Canva social media frame:
Create a personal FREE Canva account. 
Open the links below once you're logged into your new Canva account (the free app can be used on your phone or desktop).
Replace the stock image with a photo of yourself.
Under the PUBLISH menu (top right), click on "Download" and select the format you'd like to use.
Share your creation! Use these hashtags so that we can all stay connected #UCalgaryNursing2020 #UCalgaryGrad #UCalgaryAlumni
Links to templates:
If you don't want to make a Canva account, feel free to use these .pngs in your own social media creations (stories or posts):
In the News: Northern Health
The International Year of the Nurse and Midwife: Cassie Poitras
Congratulations Class of 2020! Graduation is a very special milestone. It marks the start of a new chapter as you move from student nurses to practicing Registered Nurses. I wish you the very best as you embark on this journey, and I know you all will be incredible practitioners.
Zeeyaan Somani, BN'18, UCalgary Nursing Alumni Committee Co-President
Congratulations to all our graduating students! You have demonstrated nothing but hard work and determination getting to where you are today, and I know that you will continue to demonstrate those traits as you enter practice. Good luck wherever you go!
Emma Lockyer, Program Specialist, Undergraduate Programs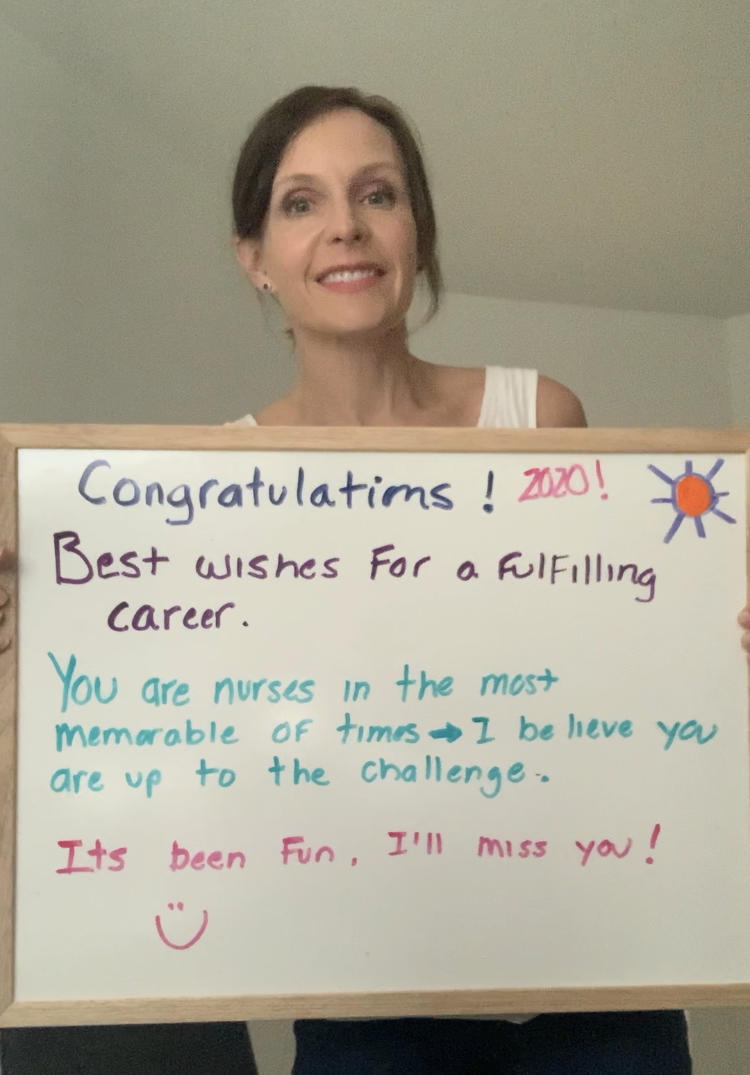 Sincere congratulations on this amazing accomplishment!! Wishing you every success on your next journey.
Carrie MacKay, Manager, Undergraduate and Graduate Programs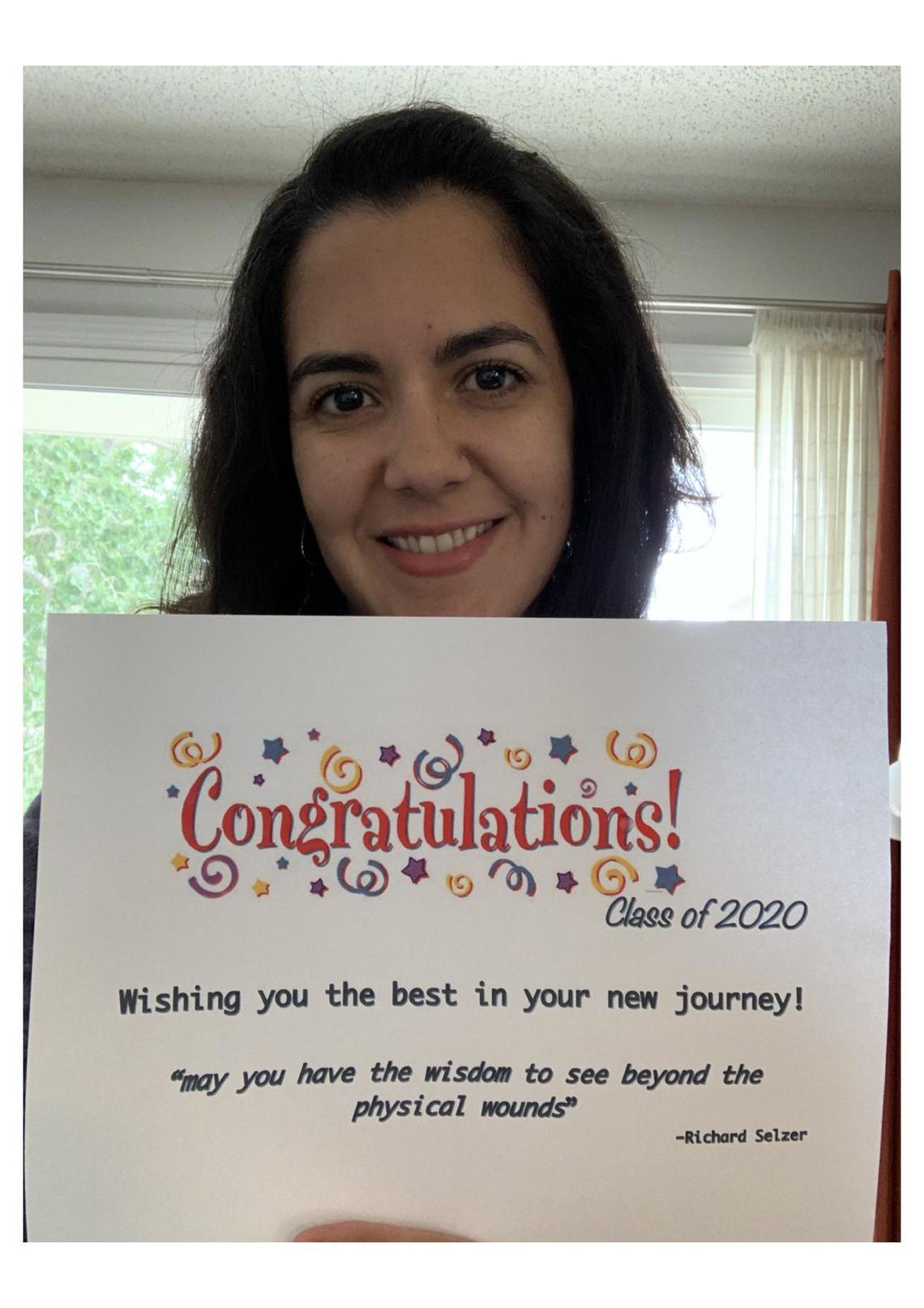 Congratulations on completing your nursing degree - an accomplishment to be proud of! This milestone in your career is marked by not only a pandemic, but political and racial unrest across the globe. Truly history in the making. And for you, just the beginning...

Laura Ashburn, BN'03, acute care nurse
Congratulations to all the graduates!

SPECIAL KOODOS TO DANAIET TEAME, MN! Your intellect, passion and resilience are an inspiration. You are doing great things!
Janet Rankin, Associate Professor
Wooohoo!!! Congratulations Graduating Class of 2020!! I know how hard each of you have worked to reach this accomplishment! You are going to do amazing things for patients, clients, and the profession. Best of luck in all your future endeavors!!
Kara Sealock, BN'00, MEd'12, EdD'19, Senior Instructor
Congratulations Nursing Class of 2020 and especially those graduates I had the honour of teaching at some point! Enjoy your new career and provide the best possible care to your future patients. Remember that the bulk of your learning starts now. Congratulations again!!!
Megan Keszler, Instructor
This year is one for the books, along with your great achievement of graduating nursing! All your hard work has paid off! Take the time to celebrate and look back at your achievement, a reminder that you can always be better everyday. Congratulations!
Karla Jansen, BN'17, UCalgary Nursing Alumni Committee Co-President
Congratulations on your wonderful achievement. Welcome to our profession which is so essential to the health of local, national, and international citizens. The Holy Cross Hospital School of Nursing Alumnae is honoured to be connected with the Faculty of Nursing.
Elaine McKiel, Associate Professor Emerita, Holy Cross Hospital School of Nursing Alumnae Vice-president and Secretary
Congratulations to the class of 2020! You should be very proud of your accomplishment and all the hard work you've put in over the past few years. You're graduating under some unusual circumstances, but you've made it! And I'm certain all your futures are incredibly bright!
Amber Porter, Learning and Instructional Design Specialist
I hope you enjoy every minute of this great success! This achievement certainly represents the outcome of your dedication and hard work. There are often people around us who also make a contribution to our success. Identify them, and celebrate together! Very best wishes to you!!
Kathryn King-Shier, Associate Dean, Graduate Programs
Congratulations on this fabulous achievement! I wish you every success for a long and fulfilling career.

Eloise Carr, Professor
Congratulations to everyone in the Class of 2020!!!

All of your dedication and hard work have paid off and I know that you will continue to make me proud to be part of the Faculty of Nursing. :-)
All my best wishes for a spectacular and fulfilling future!
Christi Lange, Research Facilitator, Nursing Research Office
Congratulations everyone, you've reached an incredible milestone! I remember my own excitement (and nerves) when I graduated: feed your excitement, be kind to yourselves always. It's been a pleasure to know you; you are ready to make a profound mark on so many people's lives!
Andrew Estefan, Associate Professor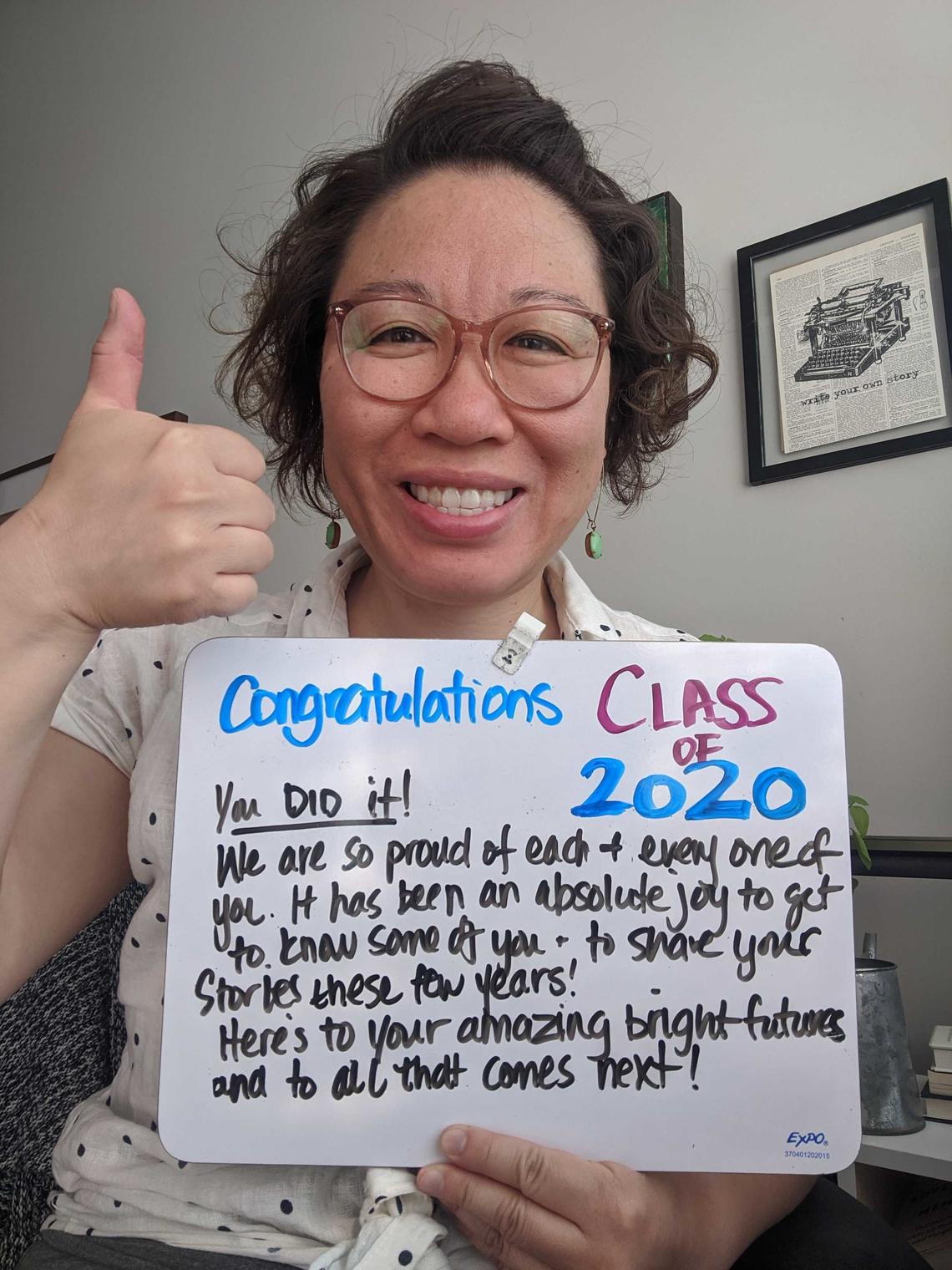 Congratulations on all your hard work & accomplishments! It has taken so much for you to get here & I look forward to seeing you as RNs leading best care practices!
Christine Foran, BN'96, MN'16, Instructor
Way to go! I am very happy to be able to call you my colleagues. Remember that you will always have the support of those who have taught you, have worked with you, and have had fun with you - your peers, fellow students, and instructors.

Above all, remember to breathe!
Dave Patterson, BN'08, MN'19, Instructor
Congratulations to the Nursing Class of 2020! Be proud of all of your hard work and accomplishments. All the very best to each graduate as you embark on your professional nursing career. Best Wishes!
Añiela dela Cruz, BN'98, Assistant Professor
Sending a huge congrats to the nursing grads of 2020! Your hard work has not gone unnoticed. Now is a thrilling time to join the profession! Take on all your challenges with courage, trusting that you're equipped with the all the skills and compassion you need! Stay in touch!
Aimee Mains, NurseMentor Coordinator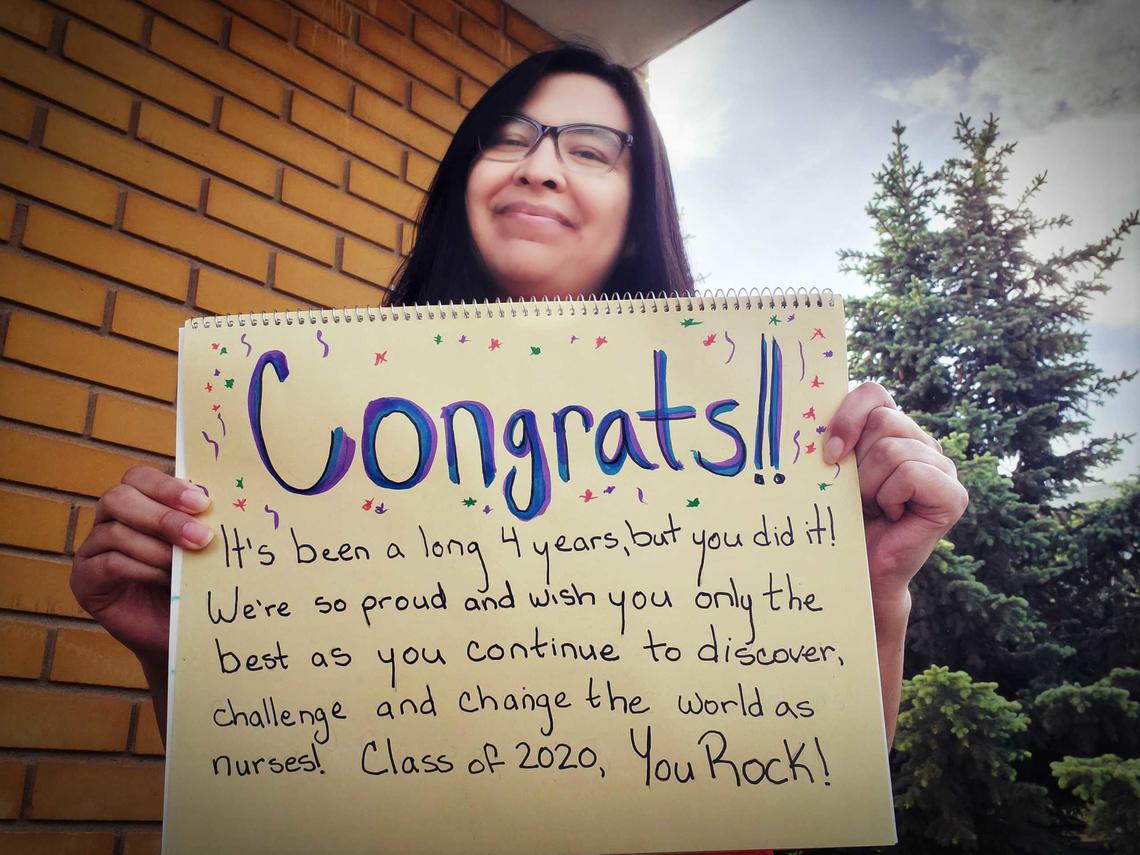 There is a saying, "tough times never last, but tough people do." Your resiliency and drive to make the community a better place is represented by your choice to become a nurse. Take pride in your compassion, leadership, and value for well-being of others.
Stephanie Ng, Director of Development
Congratulations! You've worked hard to get here and we're proud of you as UC nurses ready to join the profession.
Graham McCaffrey, PhD'12, Associate Professor
CONGRATULATIONS Nursing Graduates!! We, in the Clinical Simulation Learning Center, are proud of how far you've come! This is only the beginning, enjoy the journey!
Nancy Histed, Lab Monitor
Congratulations to everyone in the Class of 2020! What an amazing achievement! I look forward to hearing about all of the innovative ways you will shape our profession. Enjoy your celebration!
Sarah Dewell, BN'07, PhD'19, Postdoctoral Associate