In recognition of all those in our community of nursing students, faculty, staff, alumni and partners who are individually and collectively "crushing" COVID-19 with their efforts, we celebrate you as a COVID Crusher! 
As a COVID Crusher, you'll get a public shout-out on this page as well as a small gift including a wonderful natural mini deodorant donated by routine, a local company co-founded in 2011, by Pippa Blair (BN'14, BComm'07).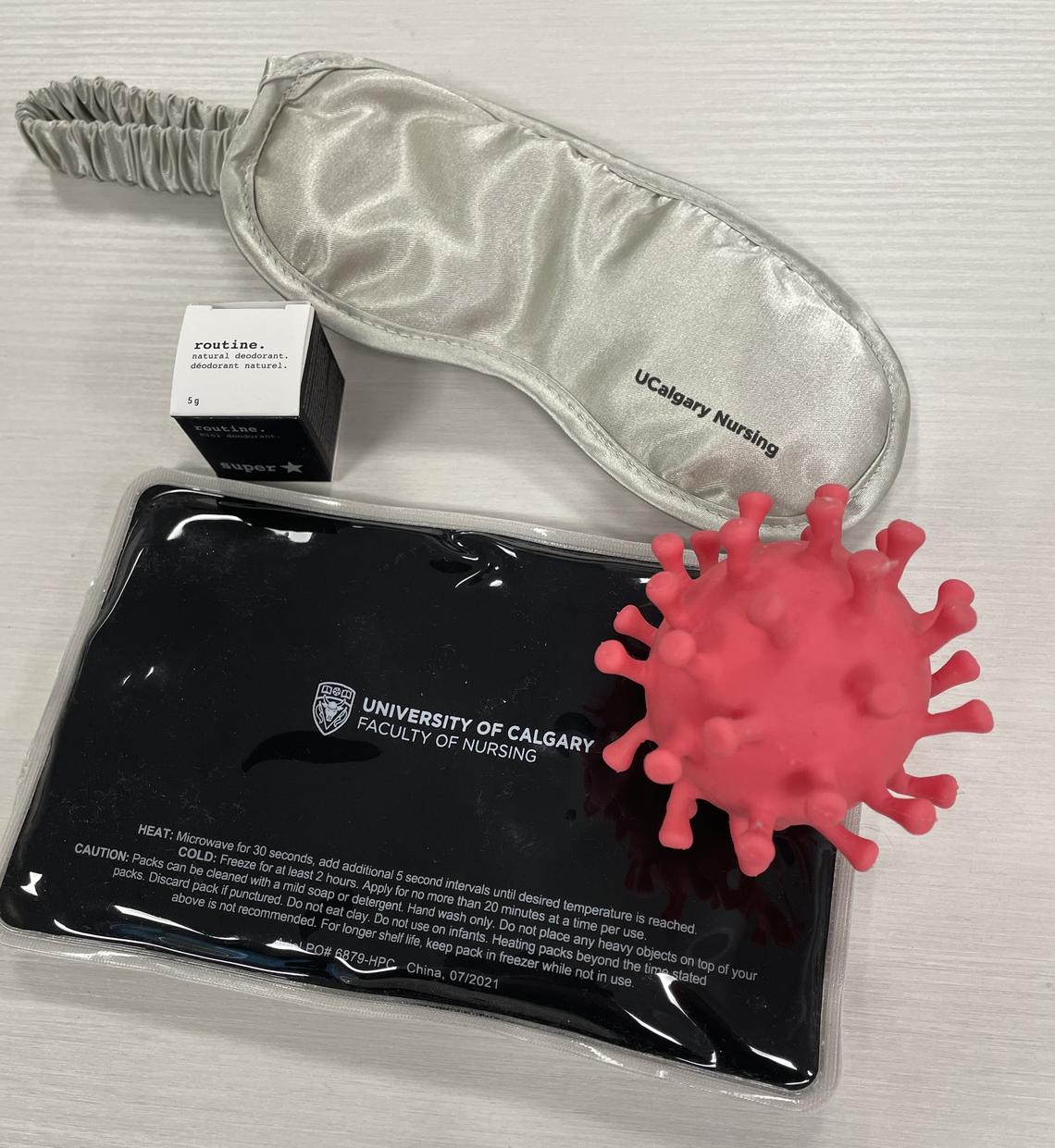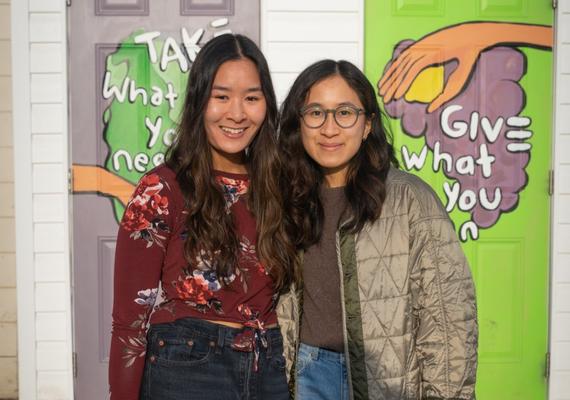 Gabriella Wong Ken BN'19 & Jasmine Wong BN'18
"Gabriella and Jasmine are nursing alum who started The Hatch in 2021, a mutual aid group. They started a community fridge in the SW community of Rosscarrock, as well as a community pantry at Kaffeeklatsch. Their goal is to offer barrier free access to food and hygiene items and to encourage more collaboration between community members." (Nominated by Lynda Sea)
N389 students (Groups 3&4)
"Learning has been hard this winter. Despite the uncertainty and fear, these students have responded professionally and appropriately to COVID events through their diligence to monitor symptoms and/or close contacts, showed up wholeheartedly and prepared to learn for every class and clinical, and extended themselves to meet client needs and preferences. Their compassion, expertise, and care has been heartwarming and inspiring." (Nominated by Shannon Parker, Kristen Toporowsky, Melissa Eastveld)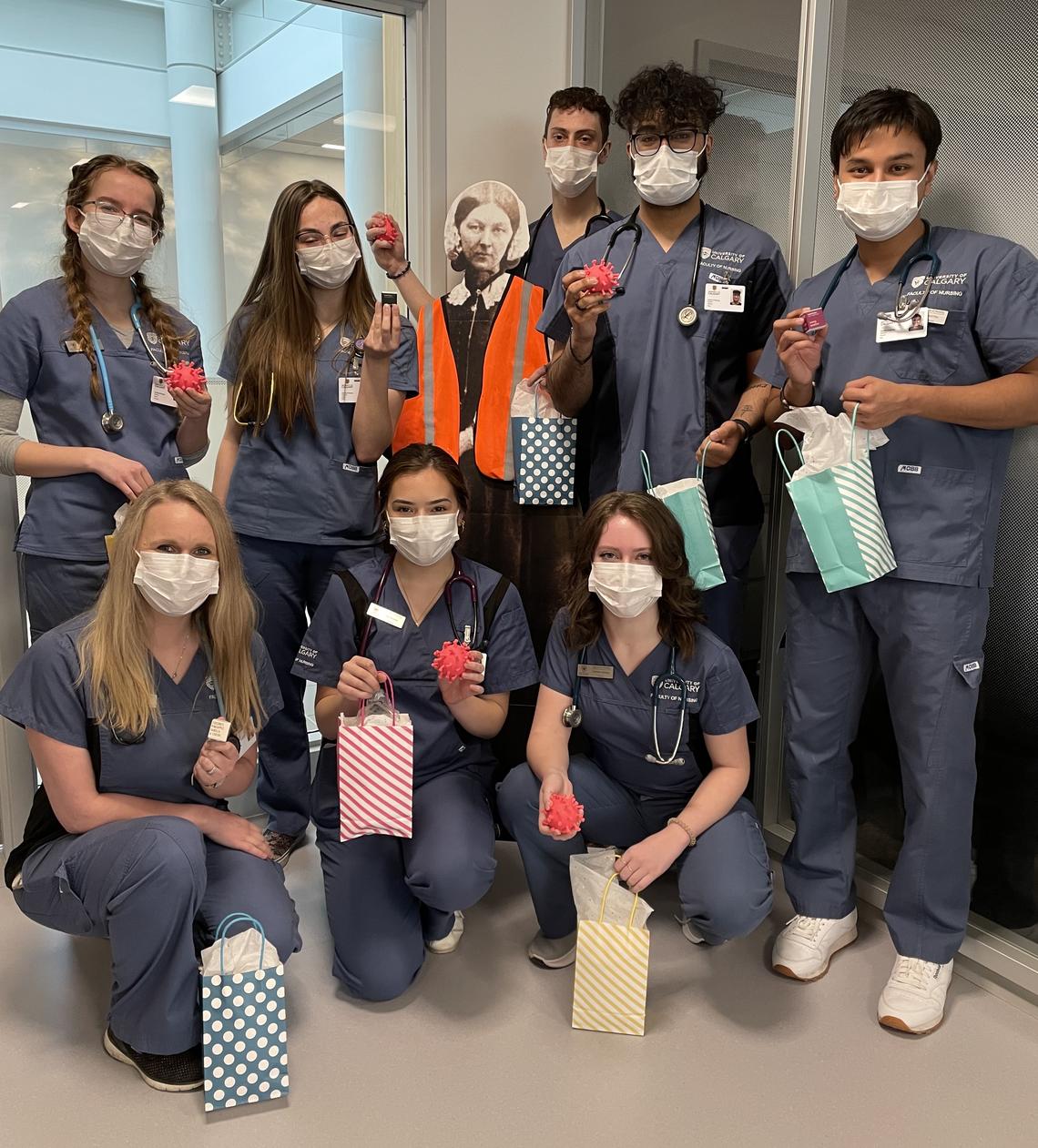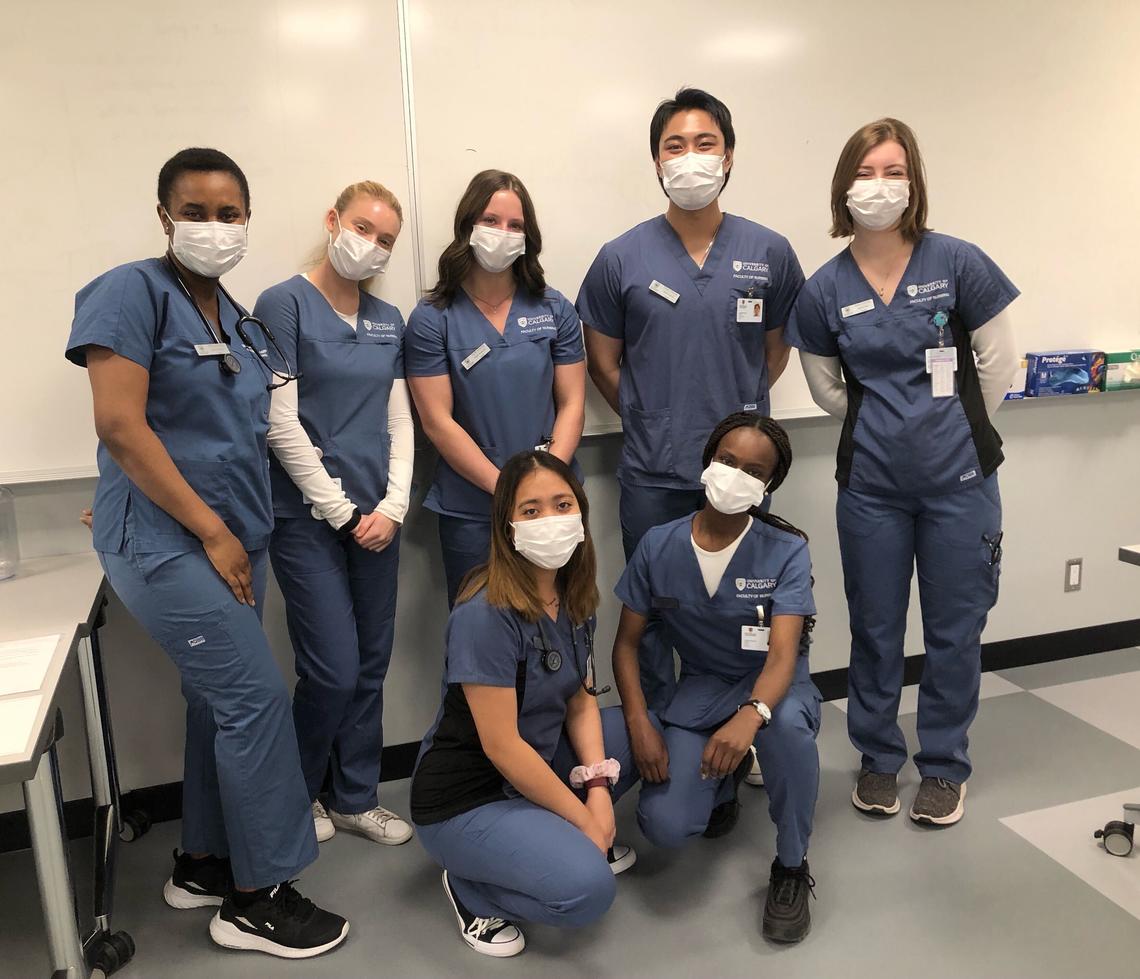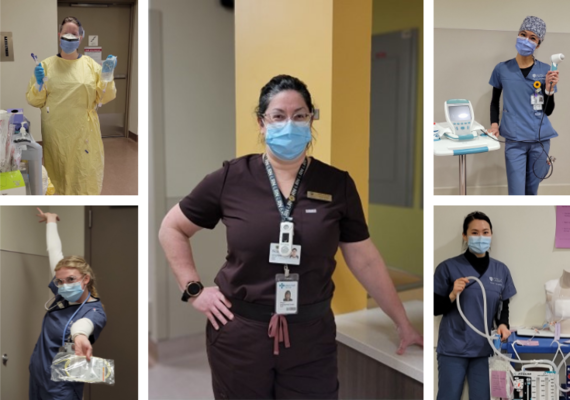 Megan Keszler, nursing instructor and ICU nurse
She's a registered nurse and sessional instructor who at the beginning of the pandemic was an ICU nurse who transferred to internal medicine and cardiology. During the fourth wave, she was redeployed to the PLC ICU as a primary ICU nurse to assist short staffing, working six to seven days a week. Through all this, she says her nursing students are the real COVID Crushers. 
Joan Smith, Brenda Bode and Kim Halliday
"Joan and Brenda took a pivotal role at the beginning of the pandemic, packing up offices of faculty and staff who did not want to come into the office. Joan organized a move to Craigie Hall and then a move back to the new building, working with campus colleagues to get all our offices set up.
"Brenda continually came in the office during the past two years and has been a reliable on-site staffer throughout this stressful time.
"Kim joined our staff at a very challenging time and still has not had the chance to meet everyone in person yet. Still, she has taken up her role as a great front officer staffer, accepting deliveries, greeting people who wander in and, some may argue, putting her personal safety second to doing her job. She definitely is crushing COVID!"
Nominated by Karen Cook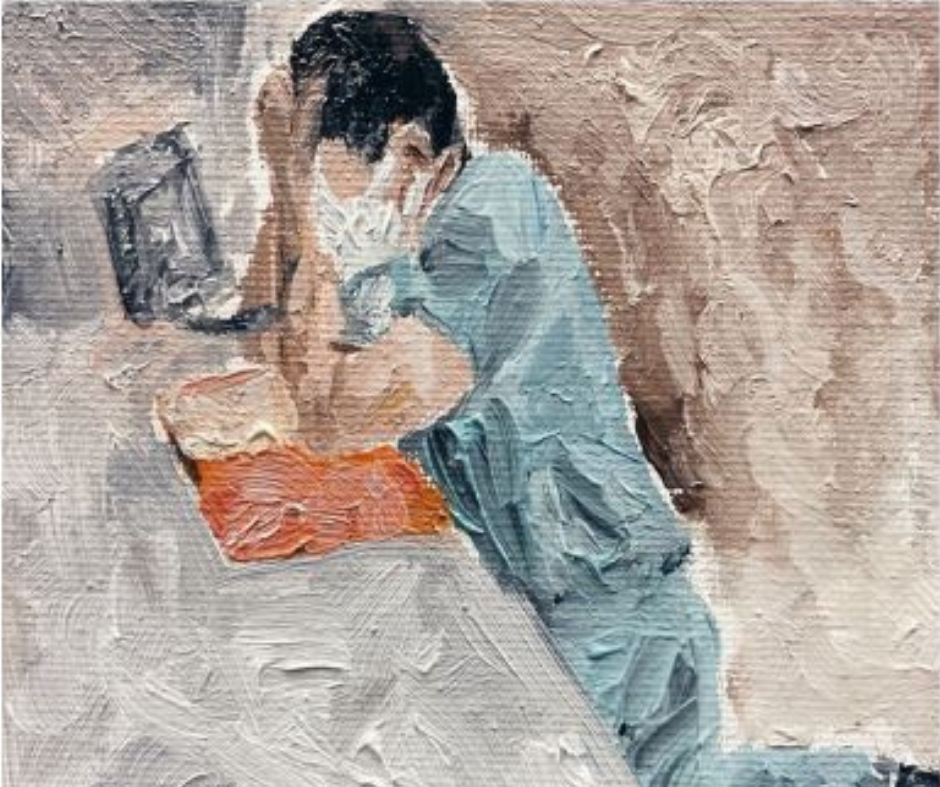 With a heavy heart, painting by Randip Dhaliwal
"I was inspired by the resilience and strength of frontline healthcare workers when I came accross a photograph showcasing an ICU physician calling a family member to inform them that their loved one had died from COVID-19. The image resonated deeply with many healthcare providers as it offered a small glimpse into the unfortunate reality of the battle we face every day to protect Albertans and keep them safe. I have recreated it with oil paint and hope it provides a glance into the uncertainty and sadness that the image conveyed. To all my fellow healthcare providers on the frontline, thank you for your bravery, courage, and unwavering selflessness.'This one is for each and every one of you."
(Text and photo was originally featured in the 2021 Longview Journal)
About Pippa Blair BN'14, BComm'07
Pippa Blair is co-founder, and "left brain" of Routine. Working alongside her sister-in-law Neige, the duo has grown Routine into Canada's premier natural deodorant company, winning multiple awards and accolades, including being named in Avenue Magazine's Top 40 Under 40 class of 2015 and ATB Small Business of the Year in 2019. Routine has since partnered with Canada's largest wellness distributor and have distribution contracts in the U.A.E., U.S.A. and Europe. This past summer, Routine launched a full line of natural, personal care products with both the products and bottles made right here in Calgary.
Pippa graduated from the Bachelor of Nursing Accelerated Track in 2014, after which she worked as a labour and delivery nurse at FMC. Although Routine's  success quickly pulled her away from her nursing career, Pippa has fond memories of the life-long connections she made to both students and faculty at the University of Calgary, as well as the incredible team of inspiring nurses and doctors on Unit 51 at FMC.