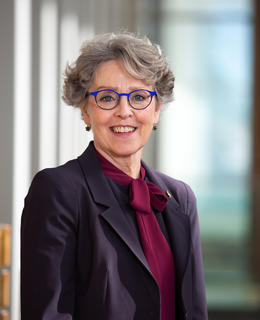 Dr. Karen Marie Benzies, BSc, MN, PhD
Positions
Professor
Faculty of Nursing, Faculty
Director Social Innovation
Office of the Vice President
Founder & CEO
Liminality Innovations
Adjunct Research Professor
Cumming School of Medicine, Department of Pediatrics
Adjunct Research Professor
Cumming School of Medicine, Department of Community Health Sciences
Child Health & Wellness Researcher
Alberta Children's Hospital Research Institute, Owerko Centre
One Child Every Child Impact, Value & Knowledge Mobilization Member
University of Calgary
I'm looking for...
Research partners
Neonatal intensive care providers and administrators who want to improve outcomes for critically ill infants, families and the health system.  
Background
Credentials
RN, College of Registered Nurses of Alberta, 1973
Educational Background
Post-doctoral Fellowship Nursing, University of Ottawa, 2005
Post-doctoral Fellowship Psychology, Stockholms Universitet, 2002
Doctor of Philosophy Nursing, University of Alberta, 2001
MN Nursing, University of Alberta, 1996
BSN Nursing (Distinction), University of Victoria, 1993
Diploma Nursing, Kelsey Institute of Applied Science & Technology, 1973
Biography
Dr. Benzies is a Professor with the Faculty of Nursing, and Adjunct Research Professor with the Departments of Pediatrics and Community Health Sciences, Cumming School of Medicine at the University of Calgary. She received a PhD from the University of Alberta and completed post-doctoral fellowships at Stockholm University and the University of Ottawa.

Dr. Benzies has published more 140 articles in peer-reviewed journals, 46 technical reports, and two book chapters. She has given multiple invited presentations to community groups and professional organizations, 50 media interviews, and 250 oral and poster presentations at peer-reviewed conferences.
In 2010, Dr. Benzies received the Nursing Excellence in Research Award, the highest honor for nurse scientists in Alberta. In June 2012, she received a University of Calgary, "You Make a Difference" award in honor of her contributions to the undergraduate nursing curriculum. In 2013, she received the Westbury Legacy Award from the Alberta Centre for Child, Family and Community Research to recognize her commitment to the academic and professional growth of graduate students and community partners working in the areas of child, family and community research.

Dr. Benzies' most satisfying accomplishments come from creating linkages among researchers, clinicians, and policy makers to improve the health and well-being of young children and their families. To do this more effectively, she launched a company, Liminality Innovations, to move her clinical trial validated interventions into practice.
Research
Areas of Research
Health system transformation
Within the Alberta Health Services' Innovation Pipeline and support from PRIHS and HIIS grants, Benzies and a large team of collaborators, including the Maternal Newborn Child and Youth, Strategic Clinical Network, scaled and spread an innovation in neonatal intensive care practice, Alberta Family Integrated Care (also known as Merge) across all 14 NICUs in the province. Merge is the next evolution of family-centered care. Brief, interactive eLearning modules teach healthcare providers to integrate families into the neonatal care team. With Merge, healthcare provider roles broaden with a focus on educating and supporting parents as they gain knowledge, skills, and confidence in care of their baby.
In a clinical trial of Merge, mothers and fathers of critically babies in the neonatal intensive care unit were less stressed and more confident in providing care for their baby. Babies were discharged home 2.55 days sooner without having more visits to the emergency department or readmissions. With shorter hospital stay, parents spent less out of pocket for parking and cafeteria food. With only 12 of the 14 NICUs having fully implemented, the province avoids $215,000 per month for a program that costs $$215,000 per year to sustain. Given proven efficacy and effectiveness, Benzies is working to make Merge available outside Alberta. 
Transition to parenting
Becoming a parent is a life-changing event and may be stressful. Most prenatal programs leave parents feeling unprepared for the realities of early parenthood. The purpose of this project was to test a program, called Welcome to Parenthood©, designed to support first-time and/or vulnerable parents during their transition to parenthood. Welcome to Parenthood is a community-based mentorship and support program offered through family resource centres and agencies serving socially vulnerable families. Mothers identified a mentor in their own social network, and together they participated in a 2-hour group session about early brain development, postpartum depression, and where to seek community resources. Compared to women who did not have the program, women in Welcome to Parenthood had less postpartum depression. The best mentors were the woman's own mother, sister, or an agency volunteer. Agencies serving socially vulnerable families continue to include Welcome to Parenthood in their programming. 
Gender and ethnicity variations in child receptive language development
Life course research has clearly demonstrated the negative influence of sub-optimal family environments on child development. In the CUPS (formerly Calgary Urban Project Society) One World Child Development project, we observed receptive language skills in children from their enrolment in a two-generation preschool program to late adolescence. Similar to others who studied early intervention programming, we found positive effects of the early intervention program that were most pronounced between intake and exit. After children left the preschool program and entered their neighborhood school up to late adolescence, these positive effects were dampened. Receptive language scores of boys of immigrant families were about the same as girls at intake to the program. However the gaps between immigrant boys and girls widened over time and immigrant boys scored the highest and slightly above the standard score at late adolescence. Girls of immigrant families started off with the lowest receptive language scores and by adolescence still scored two-thirds of a standard deviation below the standard score. This suggests that despite participation in a two-generation preschool program, educators still need to pay special attention to supporting language development in girls of immigrant parents. 
Research Interests
Participation in university strategic initiatives
Courses
| Course number | Course title | Semester |
| --- | --- | --- |
| NURS721 | Advanced Quantitative Research Methods | Fall 2021 |
| NURS656 | Healthcare Innovation and Design Course 3 of 4 | Spring 2022 |
Awards
Calgary Urban Project Society (CUPS) Lifetime Achievement Award,

2018

Faculty of Nursing, Pursuit of Excellence, Graduate Teaching Excellence Award,

2017

Faculty of Nursing, Pursuit of Excellence, Outstanding Team Award (Nursing Research Office),

2017

GREAT Supervisor Award, Faculty of Graduate Studies, University of Calgary,

2017

Canadian Association of Perinatal and Women's Health Nurses, Excellence in Leadership Award,

2016

Covenant Health Faculty of Nursing Advancement of Nursing Research Award,

2015

Westbury Legacy Award,

2013

You Make a Difference Award,

2012

College and Association of Registered Nurses of Alberta, Award for Nursing Excellence in Research,

2010